Trump Admin Halts Plans To Use Santas To Promote COVID Vaccine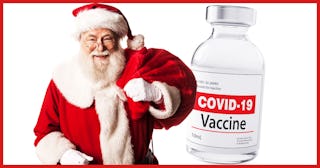 Scary Mommy and inhauscreative/asbe/Getty
A bizarre Wall Street Journal report details how the Trump Administration planned to advertise COVID vaccines using Santa performers
We still don't know when a COVID vaccine might be coming, but it's looking less and less likely that one will be approved this year (a particularly aggressive timeline that most experts said was technically possible, but pretty unlikely). But the Trump administration has continued to insist a vaccine is just around the corner, and part of their plan to roll one out around the same time as the election apparently included having Santa performers promote it — in exchange for being able to get the vaccine before the general public.
A bizarre report from the Wall Street Journal details how that plan, which was funded by $250 million in taxpayer dollars, has now been scrapped. It was apparently going to include a series of PSAs starring Santa, Mrs. Claus, and elves, and any performers who play those characters during the holiday season would be allowed early access to the COVID vaccine for participating.
Ric Erwin, chairman of the Fraternal Order of Real Bearded Santas, said the administration's decision to abandon the plan was "extremely disappointing."
"This was our greatest hope for Christmas 2020, and now it looks like it won't happen," he added.
In a 12-minute phone call in August, Michael Caputo, an assistant secretary for the Health and Human Services Department, met with Erwin to discuss the plan. Erwin recorded the call and provided that recording to the WSJ. In the call, that you can listen to on a WSJ podcast, Caputo said that a COVID vaccine would be approved and distributed to front-line workers by Thanksgiving.
"If you and your colleagues are not essential workers, I don't know what is," Caputo told Erwin. "I cannot wait to tell the president. He's going to love this."
Erwin responded, "Since you would be doing Santa a serious favor, Santa would definitely reciprocate," and Caputo replied, "I'm in, Santa, if you're in."
In a later call, Caputo outlined a plan to have Santa performers appear at COVID vaccine roll-out events in as many as 35 cities.
The plan started to fall apart when a contract was awarded on Sept. 1 to start creating the ads, and top Democrats in the House of Representatives questioned the timing of the campaign.
"We are concerned that the Trump Administration appears to be misusing taxpayer dollars to fund a political propaganda campaign—disguised as a public health effort—just weeks before a presidential election," wrote Reps. James E. Clyburn (D., S.C.), of the Select Subcommittee on the Coronavirus Crisis, Carolyn B. Maloney (D., N.Y.), of the Committee on Oversight and Reform, and Raja Krishnamoorthi (D., Ill.), of the Subcommittee on Economic and Consumer Policy.
Ric Erwin, of the Fraternal Order of Real Bearded Santas, said nearly 100 Santas had volunteered to participate, and without a COVID vaccine, they don't know how they'll do their work this Christmas season.
"They may have been fibbing a little bit to Santa," Erwin said.
This article was originally published on