Trump Adminstration Says It's Not 'Possible' To Reunite Thousands Of Separated Children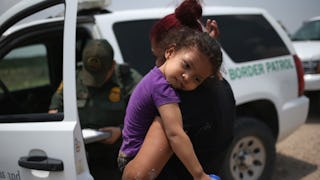 Image via John Moore/Getty Images
The Trump administration said that it might be impossible to reunite all immigrant children with their parents
At least 2,737 immigrant children are still separated from their parents following the government's "zero tolerance" immigration policy. Now, the Trump administration is saying that locating those kids and reuniting them with their parents may not be possible, according to a report from NBC News.
Thankfully, the ACLU is already gearing up to fight back.
According to Jallyn Sualog, deputy director of Health and Human Services' Office of Refugee Resettlement, finding and reuniting children who were pulled apart from their parents at the border might not be "within the realm of the possible." Sualog explained in a court filing that her office doesn't have the time or ability to perform such a task.
"Even if performing the analysis Plaintiffs seek were within the realm of the possible, it would substantially imperil ORR's ability to perform its core functions without significant increases in appropriations from Congress, and a rapid, dramatic expansion of the ORR data team," she said.
Hmmm. Call me crazy but it sounds like finding children and reuniting them with their parents should probably be a top priority, no matter how many resources need to be expended.
The report also noted that the administration is unsure how many kids were separated from their parents during the "zero-tolerance" policy – nor are they really attempting to figure it out.
"[Health and Human Services] has not tried to determine the 'total number of children separated from a parent or guardian by immigration authorities,' much less reported such a total to the Court," Jonathan White, commander with the U.S. Public Health Service Commissioned Corps, wrote in the court filing.
Another double whammy to add onto all this awfulness? Sualog noted that her office cannot reunite kids who have already been taken out of their system and placed with a sponsor. "ORR would have the authority or resources to forcibly reunify minors who are no longer in ORR custody," she wrote. "Finally reunification of minors already residing with close relatives, parents or family friends could interfere with the child's routine and currently established relationships."
The ACLU – which took the Trump administration to court over immigrant family separations – hit back and slammed the government's completely defeatist attitude.
"This response is a shocking concession that the government can't easily find thousands of children it ripped from parents, and doesn't even think it's worth the time to locate each of them," the nonprofit tweeted. "We will be back in court on February 21."
Keep fighting the good fight, ACLU. This is completely reprehensible, unacceptable behavior.