Trump Threatens To Pull Federal Wildfire Aid From California
by Christina Marfice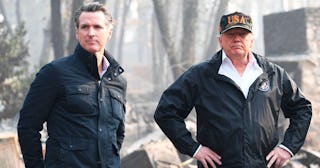 SAUL LOEB/AFP/Getty
As homes burn in the California fires, Trump is making petty threats about taking away federal relief aid from the state
While the California fires that have forced mass evacuations and destroyed hundreds of buildings, including dozens of homes, are now mostly contained, the state isn't safe from the threat of more fires. And as people slowly start to return to their homes after evacuating in the San Francisco and Los Angeles areas, President Donald Trump is making threats on Twitter about withdrawing federal relief aid from California.
In a series of tweets, Trump blamed the recent fires on mismanagement by California Governor Gavin Newsom, saying the California fires this year and during other fire seasons could be prevented if the state did a better job of raking its forest floors.
"The Governor of California, @GavinNewsom, has done a terrible job of forest management," Trump wrote. "I told him from the first day we met that he must "clean" his forest floors regardless of what his bosses, the environmentalists, DEMAND of him."
It's unclear which fires Trump is referring to in these tweets, since the recent California fires have been largely in urban areas and haven't burned any forests. But this is also the president who denies that climate change exists, so we can't really expect him to understand the intricacies of California's wildfire problems, especially since they're largely driven by climate change.
And that's basically how Newsom replied to Trump's digs.
"You don't believe in climate change," he wrote in his own tweet. "You are excused from this conversation."
These kinds of fires have become the new normal in California in recent years. Experts point to climate change as a major driver in the increase in frequency and intensity of California fires, but Trump has never been convinced. He's previously criticized the state's wildfire management policies, and this isn't the first time he's threatened to cut off federal aid, even as people are losing their homes and lives in fires each year.
"You've got fires eating away at California every year because management is so bad," he told reporters on the White House South Lawn over the weekend. "The governor doesn't know; he's like a child, he doesn't know what he's doing. And I've been telling them this for two years. They've got to take care of it. Every year it's always California, it's rarely somebody else or someplace else."
That was the first time Trump has made any significant mention of the current California fires that have been raging for weeks.