Trump's Asylum Ban Was Just Blocked By A Federal Judge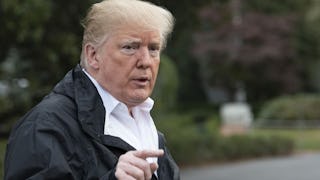 Image via ERIC BARADAT/AFP/Getty Images
Asylum seekers who cross the U.S. border between ports of entry won't face an asylum ban, judge rules
A federal judge has blocked Donald Trump's latest attempt to stop immigration at the Mexico/United States border. On November 9th, Trump issued a proclamation that acted as an asylum ban, making anyone who crossed the southern border of the U.S. between ports of entry ineligible to even apply for asylum. On Monday, U.S. District Judge Jon Tigar blocked and reversed that proclamation.
The order was an attempt by Trump to rewrite immigration law without using legal channels, and Judge Tigar immediately saw that.
"Whatever the scope of the President's authority, he may not rewrite the immigration laws to impose a condition that Congress has expressly forbidden," he wrote in his decision. The judge's ruling is in response to a number of legal groups that immediately sued Trump and his administration over the asylum ban. U.S. immigration law very clearly allows anyone to seek asylum, no matter what part of the border they present themselves at.
Tigar says immigrants affected by Trump's ban could "suffer irreparable injury if the rule goes into effect."
"Asylum seekers will be put at increased risk of violence and other harms at the border, and many will be deprived of meritorious asylum claims. The government offers nothing in support of the new rule that outweighs the need to avoid these harms," he says.
This ruling comes as the first of several migrant caravans from Central American are arriving at the U.S.-Mexico border. Trump claimed his asylum ban was necessary to stop the migrants in the caravans, whom he calls a national security threat, from seeking asylum. He has also ordered thousands of armed forces to the southern border to assist border control officials as the caravans arrive.
Trump has a long history already of attempting to rewrite immigration laws by circumventing legal authority. His travel ban and family separation orders both faced legal blowback. Ultimately, a version of the travel ban was upheld by the Supreme Court, while a federal judge ordered separated families to be reunited after Trump walked back on that policy in the face of global outcry.
While this is a victory for asylum seekers, immigration proponents and human rights, it's only temporary. The asylum ban is blocked until Dec. 19, and the judge's ruling can be appealed by Trump and his administration.
This article was originally published on