Trump Autographed Photos Of Murder Victims At Anti-Immigration Event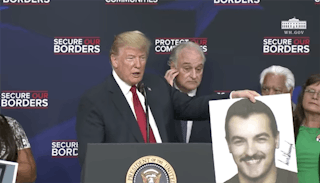 Image via YouTube/ The White House
Trump autographed large pictures of murder victims
Between ripping babies from their mother's arms and Melania Trump wearing a coat that declared she didn't care about the immigration crisis, we didn't think this administration could become more heartless. But, alas, we were wrong. At an anti-immigration event on Friday, Donald Trump signed large photos of murder victims.
After tearing at least 2,000 families apart, Trump faced criticism from everyone: celebrities, airlines, politicians, the Pope, pediatricians, Laura Bush, and every other human with a conscience. Finally, he ended his own policy that demanded children be taken from their parents at the border. He was supposed to discuss the entire issue during an event on Friday that was live-streamed. Instead, Trump focused on the families of people who have allegedly been killed by immigrants.
It's obvious Trump was trying to draw attention away from his cruel policy with the bizarre event. People called it tacky and disgusting and accused the president of using the families. Media outlets reported on the various lies Trump told at the event as well. But perhaps the most unusual part of the situation was Trump's signature on large portraits of the murder victims. It appears he thought it was a good idea to autograph these portraits before the event.
The family members of the murder victims were asked to describe the loss of their loved ones in detail to the crowd present at the event. But what should have been a somber reflection of the lives lost was an uncomfortable display of Trump's lack of compassion. Since he's obsessed with appearances, Trump focused on one victim, who had a mustache, and said: "This is Tom Selleck, except better looking. Right? Better looking." He was simply supposed to introduce Agnes Gibboney, who lost her son Ron — not make jokes. How tasteless.
At one point he also praised immigration officers – the folks who he ordered to rip families apart – for their appearance, saying they were "good looking people."
Immigrants risk so much to come to the United States and are often fleeing violent or war-torn countries. While murder is never acceptable, research shows that undocumented immigrants don't commit more crimes than the general population. In certain parts of the country, research shows immigrants may lead to a reduction in crime.
It's also worth noting that while Trump signed an order ending his cruel policy he and his administration have no plan in place for how they're going to reunite these families. When they separated more than 2,000 children from their parents, they didn't tell anyone where they were going. There are children in detention centers all over the country with no idea where their parents are and vice versa. And many of the kids aren't old enough to speak or don't speak English so they can't even communicate easily with immigration officials. Sadly, it appears that the real reason Trump brought the victims' families to his immigration event was so he could continue avoiding questions on how exactly he's going to reunite these displaced families.