Trump Will Not Issue Visas To Immigrants Who Can't Afford Health Insurance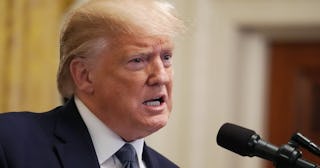 Chip Somodevilla/Getty
President Trump's proclamation also states that immigrants will need to show they have the finances to pay for medical costs
President Trump issued a "proclamation" late Friday, October 4, 2019, stating that immigrants who can't afford health insurance will not be granted visas leading to resident green cards.
"President Trump has taken action to promote immigrant self-sufficiency, which has long been a fundamental aspect of our immigration system," the proclamation (via The Wall Street Journal) said in part, making it yet another government-initiated restriction for people seeking to live in the U.S. Visa applicants will have to prove they "will be covered by approved health insurance" or show they have "the financial resources to pay for reasonably foreseeable medical costs," though the amount of money that uninsured immigrants would need in order to cover health care costs was not given.
Additionally, subsidized plans purchased under Obamacare would not qualify as acceptable health insurance under the new rule. The proclamation further stated that "thousands of aliens who have not demonstrated any ability to pay for their healthcare costs, exacerbates the problem," and that data "show that lawful immigrants are about three times more likely than United States citizens to lack health insurance."
"It's a classic Catch-22 for low-income immigrants," Larry Levitt, executive vice president at the Kaiser Family Foundation, told The Wall Street Journal. "They're eligible for subsidized health coverage through the ACA, but applying for that subsidized coverage means they can't legally be in the country."
The requirement will also block immigrants who cannot prove they can afford costly health insurance policies — policies that nearly 30 million Americans (8.5 percent of the population) also cannot afford. The change is scheduled to take effect in 30 days.
The requirement may also impact the hundreds of thousands of people who move to the U.S. each year on immigrant visas, which allow them to apply for permanent residency later on. It won't apply to refugees or immigrants who gain asylum status, or noncitizen children of U.S. citizens or people.
The proclamation defended the decision by saying that for immigrants who can't afford health care, those costs "are passed on to the American people in the form of higher taxes, higher premiums and higher fees for medical services," and that those costs have "exceeded $35 billion in each of the last 10 years."
This comes weeks after Trump implemented a rule that requires applicants to demonstrate that they won't become reliant on public benefits (including Medicaid) as a qualification to immigrate. The new requirement will require anyone looking to move to the U.S. to enroll in private insurance or show they have the financial ability to "cover significant medical costs."
"Entry into the United States as immigrants…who will financially burden the United States healthcare system is hereby suspended," the proclamation declares.