Here's Our President Telling France's First Lady She's 'In Good Shape'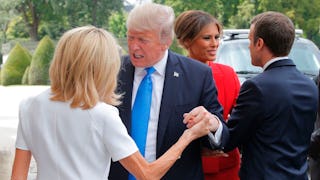 Image via Michel Euler/AFP/Getty Images
Because his life is one never-ending beauty pageant, apparently
Soon after landing in France for an official visit, President Donald Trump wasted no time in commenting on the physical appearance of the country's first lady, Brigitte Macron. Because apparently Trump's whole life is a Miss Universe pageant, and the female humans he encounters are all part of it.
The uncomfortable moment was captured by reporters during a live Facebook stream on President Emmanuel Macron's page. News agencies quickly picked up the clip, like this video posted by NBC.
"You're in such good shape," Trump tells Macron. He then turns to her husband, President Emmanuel Macron, to seemingly affirm this fact and says, "She's in good physical shape."
It's like he's saying, Wow, you still look good for being 63, you old hag.
AND HE KEEPS GOING.
"Beautiful," Trump says turning to the first lady. Then it happens, the side step women know all too well in uncomfortable situations. Macron steps to the side of Melania Trump and almost grabs her arm. It's body language that needs no expert to decipher. She's visibly uncomfortable.
This isn't the first time Trump has made inappropriate remarks about women's appearances. He repeatedly and publicly shows us that he thinks women exist on this planet for the sole purpose of his aesthetic judgement and pleasure.
Last month Trump interrupted a phone call with Irish Prime Minister Leo Varadkar to comment on the physical appearance of female Irish reporter, Caitríona Perry, the Washington Correspondent and U.S. Bureau Chief for Ireland's state public-service broadcaster RTÉ News. He beckoned her to his desk like a small child and told Vradkar on the phone that, "She has a nice smile on her face, so I bet she treats you well."
Nope. Nope AF.
It's cringeworthy, it's gross, it's predatory. Those comments are not compliments. They're not praise. They reduce the woman down to her physical appearance only and harass her at the same time.
Critics on both sides slammed Trump for his tweets that attacked cable news host Mika Brzezinski. He called her "low I.Q. crazy Mika," and claimed that at their last meeting she was "bleeding badly from a facelift."
Thankfully, for all involved, Trump is leaving France today after celebrating Bastille Day. Per usual, his awkward handshake struck again when he said his good-byes. But it's his yanking and no-let-go style with Mdme. Macron that's particularly unsettling and gross.
Never-ending handshake. Make it stop. And make the torment for women in 2017 stop.