Trump Calls Some DACA Recipients 'Hardened Criminals'
by Julie Scagell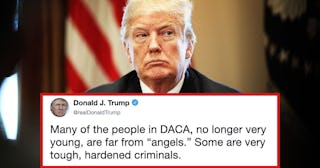 Win McNamee/Getty and Donald Trump/Twitter
Trump tweeted that many with DACA status are "hardened criminals" and "far from angels"
As the Supreme Court works toward a decision on whether to uphold an Obama-era program called the Deferred Action for Childhood Arrivals (DACA) or force the 800,000 protected under that program to face possible deportation, Donald Trump tweeted an incorrect and dangerous message about its recipients.
President Donald Trump took to Twitter on Tuesday to compare the recipients of the Deferred Action for Childhood Arrivals program to "very tough, hardened criminals," then switches gears from his past position to end the program by saying he'll cut a deal with Democrats if that happens so he can look like a hero "saving" a group of individuals he's vilified for years.
"Many of the people in DACA, no longer very young, are far from 'angels,'" he wrote on Twitter. "Some are very tough, hardened criminals. President [Barack] Obama said he had no legal right to sign order, but would anyway. If Supreme Court remedies with overturn, a deal will be made with Dems for them to stay!"
His statement is not only untrue, it is dangerous to categorize the group as such. Dreamers have a lower rate of incarceration than native-born Americans, according to a 2017 study by the libertarian CATO Institute. What's more — only qualified dreamers who have "not been convicted of a felony, significant misdemeanor or three or more other misdemeanors" can even be considered for the status, according to U.S. Citizenship and Immigration Services. Additionally, over 90 percent of DACA recipients are employed and nearly half are in school, NBC News reported.
People were understandably outraged over Trump's continuous attempt to mislabel and outright lie about immigrants in the U.S.:
For those unaware of the DACA program, in June 2012, the Secretary of Homeland Security announced that some people who came to the United States as children and met certain criteria can request consideration of deferred deportation for a period of two years, subject to renewal and recipients are also eligible for work authorization in the U.S. To be eligible, a person must have been "under the age of 31 before June 15, 2012, have lived in the U.S. since June 15, 2007, and come to the U.S. before his or her 16th birthday," in addition to the criminal clause mentioned above.
This week's important decision by the Supreme Court will decide whether the Trump administration improperly sought to shut down DACA by labeling it illegal, without offering anything additional on how it would impact the 800,000 protected under DACA status. Defenders of the program say federal law requires the administration to provide a detailed explanation for why it wants to end the program. If they overturn the Obama decision, it means those currently protected, who came with their parents to the U.S. as kids, could face deportation to countries many have never lived in because of a decision they had no say in.
"Unless we act now to preserve the DACA program, all 780,000 hardworking young people will lose their ability to work legally in this country, and every one of them will be at immediate risk of deportation," Microsoft executive Satya Nadella said earlier this year. "Our economy would lose $460.3 billion from the national GDP and $24.6 billion in Social Security and Medicare tax contributions."