Trump Says He Has A 'Hunch' That Many People With Coronavirus 'Will Get Better Very Rapidly'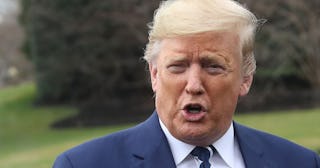 Mark Wilson/Getty
In a new interview Donald Trump accuses the World Health Organization of releasing fake facts about novel coronavirus
According to President Donald Trump, the world's top health experts and organizations — including the World Health Organization (WHO) — are basically spreading fake news about the novel coronavirus outbreak. On Wednesday night during an interview with Fox News host Sean Hannity, the POTUS accused the WHO of releasing false facts about COVID-19, even suggesting those who are infected should be totally safe going to work.
"Well, I think the 3.4 percent is really a false number," said about the WHO's estimate that the global mortality rate is around 3.4 percent. "Now, and this is just my hunch, and — but based on a lot of conversations with a lot of people that do this. Because a lot people will have this and it's very mild. They'll get better very rapidly. They don't even see a doctor. They don't even call a doctor."
"You never hear about those people. So you can't put them down in the category of the overall population in terms of this corona flu and — or virus. So you just can't do that," he rambled on. "So if, you know, we have thousands or hundreds of thousands of people that get better, just by, you know, sitting around and even going to work — some of them go to work but they get better."
Earlier on Wednesday, the House of Representatives approved a $8.3 billion emergency spending package to help with the outbreak. Also, the 11th coronavirus death in the United States — the first casualty outside of Washington — was reported in California. The president used those statistics in an attempt to prove his point.
"When you do have a death — like you had in the state of Washington, like you had one in California, believe you had one in New York — you know, all of a sudden, it seems like 3 or 4 percent, which is a very high number, as opposed to a fraction of 1 percent," he said.
"But again, they don't know about the easy cases because the easy cases don't go to the hospital. They don't report to doctors or the hospital, in many cases. So I think that that number is very high. I think the number, personally, I would say the number is way under 1 percent."
Thursday morning he backtracked on some of his comments on Twitter.
"I NEVER said people that are feeling sick should go to work," he tweeted.
"This is just more Fake News and disinformation put out by the Democrats, in particular MSDNC. Comcast covers the CoronaVirus situation horribly, only looking to do harm to the incredible & successful effort being made!"
He also gave himself a pat on the back for the United States' "quick action on closing our borders" as the reason why there are so few domestic deaths due to coronavirus.
Previously, Trump declared that the coronavirus, which has infected over 95,000 people globally and is responsible for 3,300 deaths as of March 5, was a "new hoax" created by the democrats.
"The Democrats are politicizing the coronavirus. They're politicizing it," he said during a campaign rally in South Carolina. "They don't have any clue. They can't even count their votes in Iowa. No, they can't. They can't count their votes. One of my people came up to me and said, 'Mr. President, they tried to beat you on Russia, Russia, Russia.' That did not work out too well. They could not do it. They tried the impeachment hoax. And this is their new hoax."
This article was originally published on