Trump Wouldn't Stop Shaking Everyone's Hands During His Press Conference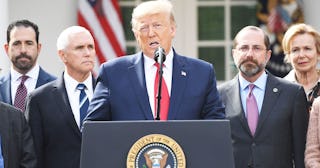 SAUL LOEB/Getty
During his press conference to address his administration's response to coronavirus, Trump kept shaking people's hands
In case anyone is still full of stupid hope that one day President Trump will wake up and not be an absolute disaster of a leader, today is not the day that hope will be realized. This afternoon, during a press conference from the White House Rose Garden, Trump just couldn't stop shaking people's hands — despite the advice of literally everyone to avoid shaking hands in order to slow the spread of the novel coronavirus.
The press conference's biggest purpose was to share the news that the Trump administration is declaring a state of national emergency. "I am officially declaring a national emergency, two very big words," Trump said to the assembled reporters and news cameras in the Rose Garden. Two very big words. Heaven help us all.
And then, he started touching.
So much god damn touching. It was like his hand was a magnet to the microphone. Touch touchy touch touch touch.
Look at this startled man's face. He knows this is not ok. He knows the advice we've all been given. And yet, the commander-in-chief persists.
And persists.
And persists.
The group of people who took turns speaking were various CEOs from companies like Walmart, Target, LabCorp, and Walgreens, among others. They were discussing their companies' responses to the pandemic and how they will help therr customers. Oh look, this guy just touched the mic too. What the hell.
Now in case you haven't been keeping up with the coronavirus news beat like I have, the reason all this touching is extra ridiculous is the fact that Trump has come into contact with a Brazilian official who recently tested positive for COVID-19. He's also shaken hands with Rep. Doug Collins, who is currently in self-quarantine after interacting with the CPAC coronavirus patient. And Rep. Matt Gaetz self-quarantined on Air Force One after sitting next to Trump on the ride over. He learned during the flight that he had posed for a photo with someone who later tested positive.
So all this hand-shaking Trump is doing could potentially be spreading COVID-19. Of course, we have no idea if the president has it because so far, he hasn't been tested.
Then, we had this absolute hero, Bruce Greenstein, the chief strategy and innovation officer at LHC Group, who refused to shake hands with Trump and instead, offered him an elbow bump.
"OK, I like that," Trump said. So at least one person standing up there doesn't have to go home and bathe in hand sanitizer.
Oh, PS, Pence also touched the mic. More than once. Good lord.
And Trump touched it a little more for good measure.
Literally the best ways to combat the spread of this virus are social distancing and good hand-washing. Social distancing definitely means not shaking hands. It also for certain means not shaking hands with someone who has spent time with people who either have COVID-19 or were exposed to it. Hopefully, everyone up at that podium today is healthy in the end, but since we can't always know right away if someone is carrying the virus, we will have to wait and see.
This article was originally published on