Recently COVID-Infected President Throws Items He's Touched At Rally-Goers
by Christina Marfice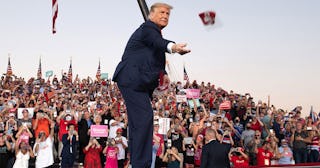 SAUL LOEB/Getty
COVID-19 has killed 215,000 Americans, and now Donald Trump is treating his infection like his personal WWE entrance
Donald Trump just had another campaign rally. This one, held in Florida, felt a little more significant than many of the others, because it's the first real really Trump has held since he was diagnosed with COVID-19 earlier this month. Naturally, he spent his time there continuing to downplay the threat of the virus, which has killed 215,000 Americans so far. And as he walked onstage to begin the rally, to his signature song of "God Bless the USA," Trump threw masks into the crowd in attendance.
Yes, masks that he touched with his own tiny hands, that may very well still be infectious with a deadly disease, were tossed into a crowd of Americans so they can put them over their noses and mouths. God bless the USA, indeed.
Trump claims that he has experienced a "miracle" recovery and is now immune to COVID thanks to an experimental antibody cocktail he was given while hospitalized. And while he claims that that treatment will now be available for free to any American who needs it, there are a few reasons that's a garbage thing to say: For one, the company that makes the drug has said they'd have to ration it because there's no way they can make it fast enough for all the Americans who get sick from this uncontrolled pandemic. And secondly, the drug hasn't passed clinical trials and there's absolutely no hard evidence that it helped Trump recover from COVID-19. As usual, he's making it up as he goes along.
And while we're on that subject, let's talk about Trump's "recovery." No one actually knows if he's fully recovered from COVID-19. Dr. Sean Conley, the White House physician who's been treating him, has already been caught in a number of public lies about Trump's treatment and condition. He's been cagey when it comes to questions about whether the president has actually tested negative. Before the Florida rally, it was finally announced that Trump had come up negative on a COVID-19 rapid test. But those tests are not as reliable. They're the same tests that were given to anyone entering the White House in order to prevent the disease from reaching Trump, and well, we all know how well that worked out. Not only did Trump contract COVID-19, but so did the first lady, several dozen of their staffers, aides, and confidantes, a handful of White House reporters, the Press Secretary, and who knows who else.
And now we have this behavior at Trump's rally. Will it be a repeat of the White House event that turned out to be a COVID-19 super spreader? We sure hope not, but the president's brazenly cavalier behavior certainly isn't going to slow the virus's spread.
This article was originally published on