Trump Grabs Mother Nature By The P***y, Signs Orders Advancing Keystone, Dakota Pipelines
by Meredith Bland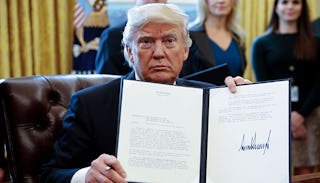 Image via Shawn Thew-Pool/Getty Images
Trump signs executive order advancing construction on Dakota Access and Keystone XL Pipelines
He's been president for less than a week, and already Trump has managed to sign orders that will hurt women, people who want to buy homes, people who want to keep their health insurance, federal workers, and now, the environment. Next? An executive order to slap all our moms in the face because no, nothing is sacred.
This morning, Trump signed orders advancing the Keystone XL and Dakota Access Pipelines. He also threw in an order to speed through environmental reviews of "high priority" projects because water is overrated and air is best when you can chew it.
Most of you probably remember the recent controversy regarding the Dakota Access Pipeline. Energy Transfer Partners (a Texas company Trump owns stock in which he claims he has sold but hasn't provided any proof) wants to build a 1,172 mile pipeline which would allow access to what is believed to be 7.4 billion barrels of oil. The problem is that not only would this threaten the ecosystem around the Missouri river, but it would threaten the water supply of the Standing Rock Sioux Indian tribe and destroy some of their sacred burial sites and cultural artifacts. There were massive protests and, in early December, former President Obama denied the permit needed to continue the pipeline.
The Keystone XL would be an addition to an already existing pipeline. It would be 1,179 miles long and would increase the use of so-called "tar sands oil" in Alberta, Canada, where the addition would start. As Former Climatologist James Hanson told Scientific American in 2013, "Moving to tar sands, one of the dirtiest, most carbon-intensive fuels on the planet, is a step in exactly the opposite direction [of clean energy.]" The Keystone XL Pipeline has been the subject of debate since 2011. Obama rejected the expansion in November 2015.
Trump's response to this was to sign executive orders on his fifth day in office (or second, if the president takes weekends off) clearing the way for construction on those pipelines to resume. As with most environmental controversies, this a fight between "but things are okay for me right now" and "your grandchildren will burn on a planet made of cancerous flames." Right now, Trump wants jobs. Construction of the pipelines would, for sure, create a lot of jobs. But at what cost? Is it worth risking the health of our environment?
As far as Trump is concerned, we aren't going to feel the effects, it'll boost his approval ratings, and he'll get to stick it to the Chinese and their "climate change" hoax. For him, there's no downside. Trump has already proven himself to be a man who is all id: he is only worried about his personal needs and desires. Bypassing the safety of our environment in order to appease himself is completely in character. But for those of us who care about what happens to this planet after we're gone, there will be enormous consequences to these orders. And that's why we're talking about it on Scary Mommy — because this is the earth your children and grandchildren will inherit.
The Standing Rock Sioux tribe has already risen up in response to Trump's actions. In an interview with NBC News this morning, the tribe's chairman, Dave Archambault II, said that they already have a plan to oppose the order:
"The Trump administration's politically motivated decision violates the law and the Tribe will take legal action to fight it," said Archambault. "We are not opposed to energy independence. We are opposed to reckless and politically motivated development projects, like DAPL, that ignore our treaty rights and risk our water. Creating a second Flint does not make America great again."
In the meantime, somebody better get cracking on perfecting those domes we're all going to be living in on the moon. I'd like mine hacienda-style.