Accused Sexual Assaulter Declares That April Is 'Sexual Assault Awareness Month'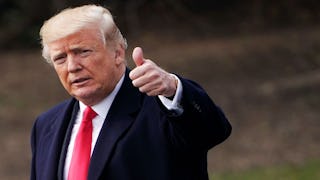 Image via Getty Images/MANDEL NGAN
The man accused of giving hush money to Stormy Daniels declares April Sexual Assault Awareness Month
Last Friday, in a proclamation riddled with misspellings, President Trump proclaimed April "National Sexual Assault Awareness and Prevention Month".
So, yeah, we should all probably take a minute to digest this information before proceeding any further.
"I, DONALD J. TRUMP, President of the United States of America, by virtue of the authority vested in me by the Constitution and laws of the United States, do hereby proclaim April 2018 as National Sexual Assault Awareness and Prevention Month," the proclamation, released on the Whitehouse.gov website, reads. "These heinous crimes are committed indiscriminately: in intimate relationships, in public spaces, and in the workplace. We must respond to sexual assault by identifying and holding perpetrators accountable."
This month being dedicated to sexual assault awareness began in 2001 with President Obama giving an official proclamation starting in 2010, a tradition that it appears Trump is continuing, however ill-advised.
For those who've lost count, 22 women have accused Trump of sexual misconduct between 1970 and 2013, Business Insider reported. He has vehemently denied every single one of them, calling his accusers liars and suggesting they're only looking for free publicity.
Of course, regardless of the almost two dozen women who have come forward, Trump has outed himself as a sexual predator on many occasions, like when he told Howard Stern in 2005, "No men are anywhere, and I'm allowed to go in, because I'm the owner of the pageant and therefore I'm inspecting it. … 'Is everyone OK'? You know, they're standing there with no clothes. 'Is everybody OK?' And you see these incredible looking women, and so I sort of get away with things like that," of his time running the Miss USA pageants.
And who can forget the now infamous Access Hollywood tape where the now leader of the free world said, in part, "I did try and fuck her. She was married," and "You know I'm automatically attracted to beautiful—I just start kissing them. It's like a magnet. Just kiss. I don't even wait. And when you're a star, they let you do it. You can do anything. Grab 'em by the pussy. You can do anything."
Obviously, the good people of Twitter see the irony of it all:
"Too often, however, the victims of assault remain silent," the proclamation continues. "They may fear retribution from their offender, lack faith in the justice system, or have difficulty confronting the pain associated with the traumatic experience."
Of course, those who choose not to remain silent and come out against, say, the person who released this proclamation, are told their assaulter couldn't possibly have done it because she's not attractive enough.
"Sexual assault crimes remain tragically common in our society," the President said. "And offenders too often evade accountability."
They sure do, Donnie.