'The Trump Effect' Is Real: Kids Are Scared Bullying Is On The Rise
by Maria Guido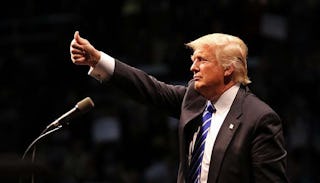 ALBANY, NEW YORK - APRIL 11: Republican presidential candidate Donald Trump gives a thumbs up to supporters after speaking at a campaign rally on April 11, 2016 in Albany, New York. The New York Democratic primary is scheduled for April 19th. (Photo by Eduardo Munoz Alvarez/Getty Images)
Talk of politics is everywhere — we really can't escape it. But have you ever stopped to think what the severely inflammatory language of the current presidential race is doing to our children? They are hearing and absorbing a lot more than we probably think they are.
According to a new report by the nonprofit Southern Poverty Law Center titled The Trump Effect: The Impact of the Presidential Campaign on our Nation's Schools," the scary events we're witnessing surrounding this campaign are trickling down to our kids — and many of them are terrified.
The SPLC surveyed 2,000 teachers about the effect the current political season is having on kids — specifically the jargon that Trump is throwing around. It's doing several things. For one, it's scaring the hell out of kids who aren't white. Also, it's emboldening bullies who are mimicking the hate-speech they hear at home and on TV.
"The gains made by years of anti-bullying work in schools have been rolled back in a few short months," the report states. "Teachers report that students have been 'emboldened' to use slurs, engage in name-calling and make inflammatory statements toward each other. When confronted, students point to the candidates and claim they are 'just saying what everyone is thinking.' Kids use the names of candidates as pejoratives to taunt each other."
A Wisconsin middle school teacher said, "Openly racist statements towards Mexican students have increased. Mexican students are worried." Another middle school teacher from Anaheim, California said, "Kids tell other kids that soon they will be deported." Students are taunted with "talk of a wall or threats of forcible removal."
Kids are scared.
Sixty-seven percent of teachers reported that marginalized students had "expressed concern about what might happen to them or their families after the election." The study notes that close to one-third of students in American classrooms are children of foreign-born parents. "There is a boy from Mexico, who is a citizen, who is terrified that the country will deport him if Trump wins," wrote one teacher. "He is also scared that kids and grown-ups can and will hurt him."
Teachers wrote over 5,000 comments in response to the survey. One in five mentioned Donald Trump by name. More than one-third of the teachers reported a rise in anti-immigrant and anti-Muslim sentiment amongst their students.
And why shouldn't they be scared? If they've seen the news they've undoubtedly seen the violence that's unfolded at several Trump rallies. They've heard him call for a "wall" to keep "them" out. What if you are "them?" Do you think young children understand the nuance of what makes people legal or illegal? Most adults don't. There are Trump supporters who actually think children born on American soil shouldn't be considered citizens.
More than 40% of teachers admitted to being "hesitant" to teach about the election, and admitted to longing for past years when they could talk about the political process in a neutral way. "I don't think it's as possible to be entirely neutral this year," wrote one teacher. "If I were to say that Donald Trump had decent points I'd be agreeing with racist dogma. I can be neutral about Democrats and Republicans, but not about racists."
This article was originally published on