Trump Just Banned All Travel From Europe To The U.S. For At Least 30 Days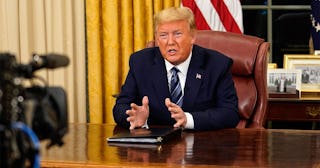 DOUG MILLS/Getty
Under Trump's ban, Americans can return home, but only if they pass special screening first
In a Wednesday night press conference, President Donald Trump addressed rising anxiety over the continued spread of the novel coronavirus and COVID-19, the deadly respiratory illness it causes. U.S. cases surpassed 1,200 today, and nearly three dozen people have died in the U.S. Globally, more than 125,000 cases have been confirmed and nearly 5,000 have died so far.
The current epicenter of the pandemic is Italy, where the entire country is on lockdown as more than 10,000 sick people have overwhelmed the country's hospitals. To address that, one of the first measures Trump announced was a ban on nearly all travel from Europe to the U.S. The U.K. is exempt from the ban, for some reason. U.S. citizens who are currently abroad will be allowed to return, but only after passing health screenings. And then that's if they can even find flights home — with the travel ban in place, flights between Europe and the U.S. are likely to become nearly nonexistent.
The ban will also apply to "some cargo," though details were not immediately clear Wednesday night what Trump meant by that directive.
"We are at a critical time in the fight against the virus," Trump said in his address. "We made a lifesaving move with early action on China. Now we must take the same action with Europe. I will never hesitate to take any steps to protect the lives, health and safety of the American people. I will always put the wellbeing of America first."
Trump claimed that the U.S. has seen "dramatically fewer cases" than European countries because of his previous flight bans from China, South Korea, and Iran. But health experts warn that U.S. cases are likely to surge in the coming days as community spread takes hold. Positive coronavirus cases have been confirmed in 42 states and Washington D.C. so far, with nearly 90 percent of total U.S. cases being reported in just the last week.
In his address, Trump called on Congress to provide payroll tax relief and health benefits for hourly workers if the crisis intensifies. He also said he will be authorizing the Small Business Administration to issue $50 billion in loans to businesses that have been negatively impacted by the economic slump caused by virus fears. Congress will need to approve that funding for the loans to be distributed.
Trump also called on the Treasury Department to extend tax payment deadlines past April 15 without interest or penalties to provide relief for individuals and businesses suffering economically.