Behold The Dumpster Fire Photos Of Trump Presiding Over A Fast Food Feast
by Christina Marfice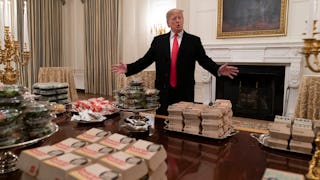 Image via Chris Kleponis / Polaris/Getty Images
Trump stacked silver platters with fast food for his White House guests — yes, really
In celebration of their national college football championship win, Trump had the Clemson Tigers NCAA team to the White House for dinner. Only because of the ongoing government shutdown, most of the White House kitchen staff is on furlough and couldn't prepare a meal. So what did Trump do? He ordered in a massive amount of fast food, arranged it on a bunch of silver platters, and fed it to his elite athlete guests.
Trump called the spread "great American food." It reportedly included items from McDonald's, Wendy's, Burger King, and Domino's.
"Because of the shutdown, as you know, we have the great Clemson team with us," Trump said, according to Buzzfeed. "So we went out and we ordered American fast food paid for by me. Lots of hamburgers, lots of pizza, I think they'd like it better than anything we could give. And so, we'll have a little fun."
"I paid." Like, how is this real life?
In this video, you can literally hear the team talking about how ridiculous this is. One mentions that they thought it was a joke.
What's more is that the president announced that, because of the shutdown, he was paying for all the fast food himself. How generous of him, to personally pay for the cheapest prepared food you can get in this country. But hey, he put it on the nice silver trays. He also put out the white linens and lit the White House candelabras, because if the food is gonna suck, you gotta go for some atmosphere, I guess.
Oh, and this classy event wouldn't be complete without a super douchey dig at Melania. The president reportedly told his guests that he didn't want to feed them anything made by the First Lady, so he ordered fast food instead. Because telling a crowd of guests and reporters that fast food is better than anything his wife can make is something our president does now. MAGA, amirite?
If this were kindergartners and the president invited them over for Happy Meals, it would be pretty darn adorable. But these are adults. More than that, they are world class athletes who train daily and follow a strict nutritional plan. But sure, give 'em platters of Big Macs and Domino's pizza.
Can you imagine? You're a guest to the White House. You show up and see white linens and lit candelabras. And then you're served silver trays of food that turns out to be from goddamn McDonald's. WTF.
If it weren't for all the photos, we'd think this story was fake. It's that ridiculous. But nope, it really happened. America in 2019, y'all.
This article was originally published on