Trump Fined $2 Million For Using Money From Veterans Fundraiser On His Campaign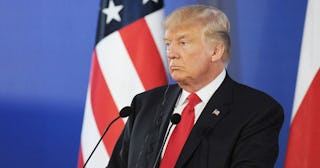 Wojtek Laski/Getty
Donald Trump has been ordered to repay $2 million to veterans charities, after misdirecting the proceeds of a charity event to his 2016 campaign
Donald Trump is in legal hot water after a judge found him guilty of breaking the law in a way that hurts a group of people he claims are a priority on his presidential agenda. On Thursday, New York State Supreme Court Justice Saliann Scarpulla ruled that Trump had misdirected proceeds from a charity even benefiting veterans to his 2016 election campaign, ordering him to pay $2 million big ones to a group of veteran-centric charities.
The events went down after the soon-to-be-elected POTUS opted to skip out on a debate hosted by Fox News, who he was feuding with at the time. He held his own even instead, dubbing it a televised fundraiser for veterans. However, according to Scarpulla, instead of the veterans' foundation running the event and getting access to the proceeds, it was his campaign that ended up running it with the charities never seeing a dime.
"Mr. Trump's fiduciary duty breaches included allowing his campaign to orchestrate the Fundraiser, allowing his campaign, instead of the Foundation, to direct distribution of the Funds, and using the Fundraiser and distribution of the Funds to further Mr. Trump's political campaign," Scarpulla explained in her decision.
New York State attorney general Barbara Underwood initiated the lawsuit last year. Initially Trump maintained that he would fight the case. However, his lawyers have been negotiating with the state for several months in attempt to settle. While he was fined $2 million, he did escape any punitive damages. However, his future charitable endeavors will be restricted.
Ironically, veterans were a huge part of Trump's initial campaign agenda, and he has always considered himself one of their biggest advocates. In fact, this Monday is Veterans Day, and he will be the first president to kick off New York City's Veterans Day Parade, the White House announced Wednesday. After addressing the 100th Annual Opening Ceremony of the parade on Monday, he will lay a wreath at the Eternal Light Memorial at Madison Square Park.
"The President has been great supporter of our veterans and indeed this parade here in New York City for more than 25 years," Bill White, 2019 Veterans Day Parade co-producer, said in a statement. "What he is doing now as president with regard to veterans choice, funding our military, and holding them and their families in the highest regard is truly extraordinary. He is loved by our veterans for sure."
However, not all veterans — or veteran charity leaders — feel that way.
Many of his his acts in support of vets are largely for show and praise, as can be demonstrated through his damaging policies. For example, his recent budget cuts in healthcare largely impact the veteran population, who heavily rely on the public healthcare system. So many veterans use Medicare and Medicaid, both of which will suffer greatly over the next decade with his cuts.
During Game 5 of the World Series between the Washington Nationals and the Houston Astros (you know, that time when the president was booed, with many fans chanting, "Lock him up") veterans displeasure with the president was clear. There were a few huge signs behind home base reading "Veterans for Impeachment," belonging to two Iraqi war veterans Alan Pitts and Naveed Shah. Both are members of Common Defense, a liberal veterans' organization consisting of 150,000 anti-Trump members.
This article was originally published on