Trump Promises To Fire Fauci 'A Little Bit After The Election'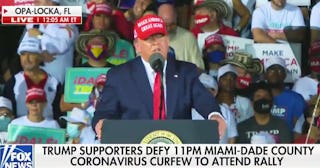 FOX News/Twitter
At a late-night rally in Florida, Trump told his supporters chanting "Fire Fauci" exactly what they wanted to hear
Throughout the pandemic, Donald Trump and Anthony Fauci, the nation's leading expert on infectious disease, have often been at odds. This has happened for one simple reason: Trump has tried repeatedly to ignore and downplay the seriousness of COVID-19, while Fauci has approached the threat of the virus with science and public health in mind. Now that more than 9 million Americans have been infected, 231,000 have died, and hundreds more die every day, well, who should we have been listening to from the start?
Despite the fact that infections and deaths are surging to record-breaking heights in almost all of the U.S. right now, a common refrain during Trump's reelection campaign has been that we're "rounding the corner" of the pandemic. And at a late-night rally in Florida last night, the president made a chilling promise to supporters after they started chanting, "Fire Fauci."
"Don't tell anybody but let me wait 'til a little bit after the election," Trump said, to cheers from attendees.
He continued, "Now, he's been wrong on a lot. He's a nice man though."
This comes right after the White House lashed out at Fauci for saying the country is in a terrible position for heading into winter.
"We're in for a whole lot of hurt. It's not a good situation," Fauci told the Washington Post. "All the stars are aligned in the wrong place as you go into the fall and winter season, with people congregating at home indoors. You could not possibly be positioned more poorly."
And why wouldn't he say that? We're recording literally 100,000 new virus cases every day, and as many people are dying every week as died on 9/11. Trump wants to say this is fine and there are actually people who believe him?
White House spokesman Judd Deere said it was "unacceptable and breaking with all norms for Dr. Fauci, a senior member of the President's Coronavirus Taskforce and someone who has praised President Trump's actions throughout this pandemic, to choose three days before an election to play politics."
But this is not playing politics. It has nothing to do with politics. It has to do with life and death for the American people, who are suffering and dying at the hands of a virus the Trump administration can't and won't take seriously. We're not rounding the turn. We're so far from it. And without someone like Fauci helping guide what very little public health response we have, I'm terrified to think of the consequences for the next four years.