Trump Administration Plans To Fund Chain Of Anti-Abortion Clinics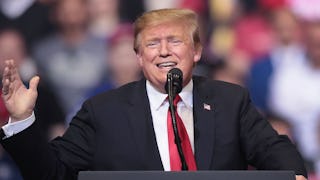 Image via Scott Olson/Getty Images
The chain of crisis pregnancy centers will likely receive $1.7 million in funding through 2022
On Friday, the Trump Administration announced it will award a $1.7 million grant to a chain of anti-abortion, crisis pregnancy centers. These centers not only oppose abortion, but they don't offer contraceptives to pregnant patients. All of this will occur while the administration will still cut funds to Planned Parenthood affiliates across the country.
According to The Hill, the chain of centers, owned by the Obria group, will receive the grant. It's no surprise that the Trump administration seeks to pander to its base by focusing on faith-based crisis pregnancy centers in lieu of Planned Parenthood, but it's still a slap in the face to women in the U.S. and their reproductive rights and freedoms.
"Many women want the opportunity to visit a professional, comprehensive health care facility — not an abortion clinic — for their health care needs; this grant will give them that choice," Kathleen Eaton Bravo, founder and CEO of The Obria Group, said in a statement.
Crisis pregnancy centers promote inaccurate information by implying they are medical providers. They offer pamphlets that focus less on medical accuracy and instead seek to convince vulnerable pregnant women away from the option of abortion.
The Obria group claims to offer pregnancy testing, counseling, prenatal care, STD testing, pap smears, adoption referral, and post-abortion support. A spokesperson for the Department of Health and Human Services says the Obria group will receive funding through 2022 based on availibility of funds — which means they could get up to $5.1 million dollars.
Meanwhile, Planned Parenthood said in a statement Friday that the four affiliates that were "stripped of funding" served Hawaii, North Carolina, Ohio, Wisconsin, and Virginia. Planned Parenthood is the nation's largest provider of abortions. Over two million women also use its clinics for reproductive and healthcare services mentioned above, many of whom are on Medicaid (one in five Americans are enrolled in Medicaid).
Conservatives have had it out for Planned Parenthood through many different administrations, but the latest efforts to defund the organization are a hit. Last month, the Trump Administration announced that family clinics can no longer offer abortion referrals if they would still like to receive federal funding. This new rule would completely revamp the Title X family planning program, which supports 4 million people every year.
Under the new rule, clinics that offer abortion referrals will no longer receive crucial federal funding for STD prevention, cancer screenings, and contraception, per NPR. The fact that religious-based crisis pregnancy centers are now receiving an increase in funding will impact many women and their ability to make the best decisions for their health.
"Today, they are removing funding from these trusted health centers and providing funding to entities that do not provide evidence-based treatment," Planned Parenthood President Leana Wen said in a statement to The Hill. "This continued attack on Title X will result in dismantling our nation's program for affordable birth control and reproductive health care, risking access to comprehensive health care for millions of low-income women and families."