Trump Issues First Comment On Deaths Of Migrant Children, And It's Awful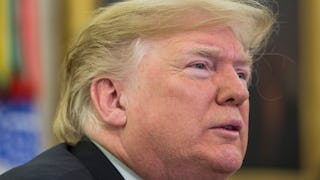 Image via Zach Gibson-Pool/Getty Images
Trump's cruelty knows no bounds — and it never will
Via his latest tweet-storm, Donald Trump is taking zero blame in the deaths of two Guatemalan children at the border during the last month.
He's deflecting the blame altogether and pointing the finger at Democrats for their "pathetic immigration policies." Unbelievable.
Earlier this month, a 7-year-old girl, Jakelin Caal, died in El Paso from dehydration and exhaustion after being taken into custody by Border Control. On Christmas Eve, an 8-year-old boy, Felipe Gomez Alonzo, died while also in government custody.
Trump's thoughts on the deaths of innocent children are the opposite of remorseful.
"Any deaths of children or others at the Border are strictly the fault of the Democrats and their pathetic immigration policies that allow people to make the long trek thinking they can enter our country illegally."
Don't worry, it gets worse.
Ah, so it's the fault of Democrats and the children's parents. Right. Not only is Trump being incredibly callous, he's also incredibly wrong. Caal's father has vehemently denied he didn't give her water — he's said repeatedly he made sure she had water and was fed. And Alonzo was in custody for a whole week before he began experiencing flu symptoms.
The abhorrent state of immigration policies and procedures is the direct result of the Department of Homeland Security. As much as Trump wants to convince his base otherwise, Democrats do not, in fact, control the policies of the Department of Homeland Security.
Many people expressed disdain and outrage at Trump's tweets.
The abominable conditions of these border patrol facilities is nothing new — bleak allegations from families who have been detained detail filthy living conditions where children aren't given soap to wash their hands. Border patrol agents have been accused of not treating sick children with fevers, diarrhea, or those who were vomiting.
"As pediatricians, we say these detention centers are bad," Dr. Colleen Kraft, the president of the American Academy of Pediatrics, tells USA Today. The AAP is now consulting with Homeland Security on providing better pediatric care. "They're cold, the lights are on 24/7, there are open toilets, and as a child, if you're not sick you can get sick."
Migrant children will continue to die if these conditions and policies stay the same. Given Trump's complete lack of empathy, comprehension, or willingness to accept the reality of his role in their deaths, he gives us every reason to believe nothing will change.