President Trump Rips Into Reporter: 'You Are A Rude, Terrible Person'
by Valerie Williams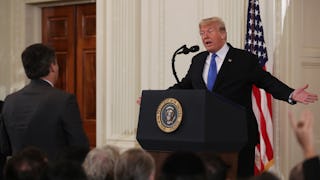 Image via Mark Wilson/Getty Images
Trump calls CNN reporter Jim Acosta "a rude, terrible person"
Proving once again that he has the temperament of a nap-deprived toddler, President Trump ripped into a reporter today for asking probing questions about the migrant caravan currently heading toward the border. Trump has previously characterized the caravan as an imminent danger to American citizens — a notion CNN's Jim Acosta challenged.
The end result? The actual president lobbing cruel insults at a member of the press doing his job.
Trump and Acosta have an ongoing feud with the president taking issue with both the reporter himself and the network he works for, regularly sneering at Acosta while telling him he and CNN are "fake news." This time, Trump went beyond his usual buzzwords and got legitimately testy when Acosta pressed him about his stance on the caravan.
"Here we go," Trump muttered as Acosta began to speak. The reporter asked about Trump's use of the word "invasion" when talking about the migrant caravan and asked if he thought that word demonized immigrants. Trump replied that he wanted immigrants to "come in legally" and tried moving on to another reporter.
Acosta wasn't having it.
He then moved on to asking Trump about possible indictments from Robert Mueller's ongoing investigation. That's when the president told Acosta, "I'm not concerned about anything with the Russia investigation because it's a hoax," and told him to "put down the mic" with a White House aide even trying to physically take it from him. Let this sink in — the White House tried silencing a reporter for asking a question they didn't like.
Acosta finally did let go of the mic and sat down, but our abusive lunatic president was only getting started.
"CNN should be ashamed of itself having you working for them," Trump said. "You are a rude, terrible person. You shouldn't be working for CNN."
Trump also mentioned Acosta's "horrible" treatment of White House Press Secretary Sarah Huckabee Sanders before moving on to address NBC News White House correspondent Peter Alexander, who opened with a defense of Acosta. "In Jim's defense, I've traveled with him and watched him, he's a diligent reporter who busts his butt like the rest of us," he says.
Naturally, that was met with a warm reply and apology from Trump for being a total monster, just kidding, he actually said, "Well I'm not a big fan of yours either."
Acosta said something to the president off mic, to which Trump replied, "when you report fake news, which CNN does a lot, you are the enemy of the people."
Acosta later thanked Alexander for doing the right thing.
This isn't the first time Trump has gotten into it with Acosta and in the past, he's even refused to answer any of his questions noting that CNN is "fake news."
For their part, CNN stood behind their reporter and tweeted a statement defending him.
"This President's ongoing attacks on the press have gone to far," they said. "They are not only dangerous, they are disturbingly un-American. While President Trump has made it clear he does not respect a free press, he has a sworn obligation to protect it. A free press is vital to democracy, and we stand behind Jim Acosta and his fellow journalists everywhere."
This article was originally published on