Trump Is Taking $2.5 Million From National Parks For His July 4th Parade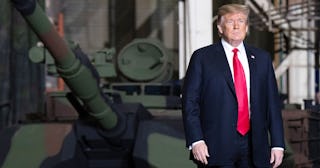 SAUL LOEB/Getty
Here's what we know about the bill Trump is running up for his taxpayer-funded 4th of July campaign rally
Donald Trump is still hard at work turning the Capital Mall 4th of July celebration — traditionally a nonpartisan event with no involvement from the president — into a giant campaign rally that celebrates… him. Not our country. Just his giant ego.
And the cost of this fawning parade he's building for himself? It's still unknown, but what we do know is that $2.5 million has now been diverted from the National Parks to help pay for it. That money comes from National Park fees, and would usually be used for things like maintenance projects and habitat restoration — things our National Parks need to keep being as beautiful as they are. Also, the National Parks system currently has an $11 billion backlog of maintenance projects it can't afford to complete, so taking money from their budgets to put on this ridiculous celebration of Donald Trump is, frankly, insane.
Then again, the Trump administration has repeatedly called for slashing the National Parks budget, so can we really be surprised by this?
In addition, Trump seems to be relying on Department of Defense funds, since there's going to be a heavy military presence at his celebration. He's currently shipping in massive tanks from Georgia, seemingly without a lot of concern for what a bunch of 27-ton vehicles will do to the streets of Washington, D.C.
The Trump administration is staying tight-lipped about what the military involvement is going to add to the event's total price tag, which isn't too surprising. He tried to pull off a military parade last year, but the event was scrapped when the public learned that it would cost almost $100 million. This event's price tag seems to be climbing, and guess who's on the hook for paying it? That's right, the taxpayers.
Oh, and for comparison, former Park Service deputy director Denis P. Galvin told the Washington Post that the entire 4th of July celebration on the National Mall usually costs about $2 million. Trump has gone over that just with the money he stole from our National Parks.
Since the 1950s, presidents have had next to no involvement in the National Mall 4th of July celebration, keeping it a nonpartisan, apolitical event that any American can attend to celebrate the nation's birth. Trump plans to speak this year, the first president to do so since 1951. In a tweet, he made it pretty clear that he considers himself the centerpiece of this event.
On top of all that, Trump's staffers have been distributing VIP tickets to his donors and members to the RNC. DNC members confirm they haven't been offered any. While the event is free for any member of the public to attend, the VIP tickets come with seating and priority viewing areas for the parade.
"We've never seen anything like this," New Mexico Senator Tom Udall told reporters. "No ticketed political event should be paid for with taxpayer dollars."
We tend to agree, but then again, that's not the America we live in anymore.