Trump Greeted With Boos And 'Lock Him Up' Chants At World Series Game 5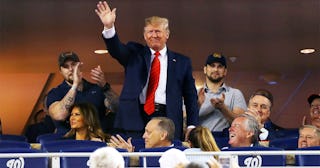 Alex Trautwig/Getty
Trump got a taste of his own medicine at the World Series
Donald Trump made an uncharacteristically low-profile visit to the World Series Game 5 to watch the Houston Astros play the Washington Nationals, and despite his attempts to stay under the radar, he received a less-than-warm welcome from other fans in the stadium — they loudly booed him and started chants of "Lock him up!"
Trump was watching the game from a box with members of his family and some Congress members as guests, but no one made any announcement about their presence at the start of the game. It wasn't until the third inning, during a tribute to U.S. service members, that the video on the Jumbotron cut to the Trump family and an announcement was made over the PA system that they were in attendance. That's when the cheers for the Marines on the field turned to boos, and chants of "Lock him up!" could be heard very clearly throughout the stadium.
It's pretty unmistakable what people were chanting.
And later, some fans hung a banner from their seats that said "Impeach Trump."
This is definitely a case of the president getting a taste of his own medicine, since he's been leading "Lock her up" chants aimed at his former rival Hillary Clinton for literal years. But with an impeachment inquiry into the president underway in Congress, the chants about him have a particular weight that they never had when he used them.
It's pretty unusual for Trump's staff to allow him to attend an event where he's likely to draw any less-than-positive reaction, which may explain why he tried to stay under the radar at the game for as long as he did. According to news reports, Trump was offered a chance to throw the first pitch at the game, but he declined because he said the security involved would interfere too much with fans trying to get to the stadium. While fans booed him and chanted "Lock him up," Trump smiled and continued to wave, seeming unfazed by the negative attention. He hasn't tweeted about the incident either, which is also out of character for him.
We still have no idea what the results of the impeachment inquiry might be, and it's likely to be a long process. We also can't really predict what affect the inquiry will have on the upcoming election, which promises to be contentious and cutthroat.
Is Trump's reception at the World Series game a sign that the tide is turning ahead of the 2020 election? We can only hope.