Trump Loses Appeal And Must Turn Over His Tax Returns
by Valerie Williams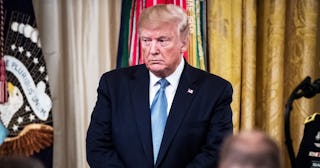 Jabin Botsford/The Washington Post/Getty
President Trump's legal team now plans to appeal to the Supreme Court to try to prevent his tax returns from being turned over to the Manhattan DA
Watching President Donald Trump get away with seemingly every crime he commits is frustrating, but once in awhile, a court comes through and stops him, restoring our faith in the justice system. This time, it's a federal appeals court in New York ruling that Trump's accounting firm must turn over his tax returns to Manhattan District Attorney Cyrus Vance.
Trump's legal team was appealing an earlier decision by a federal district court that ruled the tax returns should be submitted. Vance subpoenaed the tax documents from Trump's accounting firm during an investigation into the 2016 pre-election payoffs to two women who claimed they had affairs with then-candidate Trump. His attorney, Jay Sekulow, says they will appeal this decision too — all the way to the Supreme Court.
"The decision of the Second Circuit will be taken to the Supreme Court," Sekulow said. "The issue raised in this case goes to the heart of our Republic. The constitutional issues are significant." One of his other attorneys, William Consovoy, told federal appeals court Judge Denny Chin that Trump could shoot someone and still be immune from state criminal law because he's president. How nice.
The three-judge panel basically reiterated what the district court ruled regarding Trump's claim that he was immune from being charged with any crimes as long as he was president saying in their ruling, in part, "any presidential immunity from state criminal process does not extend to investigative steps like the grand jury subpoena at issue here."
Trump's accounting firm, Mazars USA, is being told to produce the last eight years of the president's tax returns in order to determine the Trump Organization's involvement in payouts to Stormy Daniels and Karen McDougal, the two women paid to stay quiet on their alleged affairs with Trump. The payouts allegedly occurred in the run up to the 2016 presidential election. The investigation is also looking into reimbursements made to Michael Cohen, the president's former attorney, who is currently in federal prison serving a three-year sentence for multiple crimes including campaign finance violations.
"This appeal does not require us to consider whether the president is immune from indictment and prosecution while in office, nor to consider whether the President may lawfully be ordered to produce documents for use in a state criminal proceeding," the judges wrote in today's ruling. "We accordingly do not address those issues. The only question before us is whether a state may lawfully demand production by a third party of the President's personal financial records for use in a grand jury investigation while the President is in office."
The federal judges then gave props to the lower court's prior decision saying, "With the benefit of the district court's well‐articulated opinion, we hold that any presidential immunity from state criminal process does not bar the enforcement of such a subpoena."
In this weird wild west that our country seems to be living in where Trump commits a variety of crimes that seem to go unanswered, it's a relief to watch our justice system so its job. Hopefully, when the case reaches the Supreme Court, they will keep up the good work of the lower courts and affirm their decisions.