Someone Etched The Word 'Trump' Into A Florida Manatee
by Julie Scagell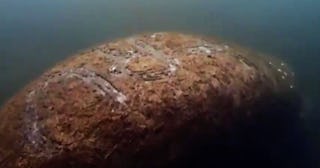 yashar/Twitter
'Cruel and illegal mutilation' of a threatened species like this manatee is a federal crime punishable by up to one year in prison
An investigation has been opened this week after a manatee in a Florida river was videoed and photographed with the word "TRUMP" written on its side, officials said Monday.
The U.S. Fish and Wildlife Service has issued an urgent plea for information after a manatee swimming in the Homosassa River in Citrus County, Florida was seen with the word "TRUMP" on its back. Luckily, after some initially believed the gentle animal had the word carved into its back, it appears it may have been etched into algae on its body and it does not appear to be hurt. Why someone would ever do this is a mystery.
Regardless, the manatee is a protected animal and The Center for Biological Diversity is offering a $5,000 reward for information leading to a conviction "for the cruel and illegal mutilation" of a threatened species.
"This abhorrent action goes beyond the bounds of what is considered cruel and inhumane," said Elizabeth Fleming, senior Florida representative at Defenders of Wildlife. "I'm disgusted that someone would harm a defenseless creature to send what I can only assume is a political message. We will do everything in our power to help find, arrest and successfully prosecute this coward."
The manatee is protected in both state and federal law and were on the endangered species list until 2017. Now, they are on a threatened species because of increased population growth. They move slowly, which makes them vulnerable to boat motors, fishing lines, and, unfortunately, shitty human beings. Federal conviction of harassing a manatee is punishable by a fine of $50,000 and up to a year in prison, according to the Florida Fish and Wildlife Conservation Commission.
"Manatees aren't billboards, and people shouldn't be messing with these sensitive and imperiled animals for any reason," Jaclyn Lopez, The Center for Biological Diversity's Florida director, said on Monday (via The New York Times). "However this political graffiti was put on this manatee. It's a crime to interfere with these creatures, which are protected under multiple federal laws."
Whomever thought this was a good idea or a "funny" thing to do should go to jail. This is a creature swimming in its natural habitat. It's not out to harm anyone. Putting your hands on something and defiling it in such a manner is abhorrent.
The manatee was photographed and recorded by Hailey Warrington, a boat captain for a fishing charter company in Crystal River, Florida. "We don't typically see manatees harassed like that," Warrington told the Sarasota Herald-Tribune, explaining that she was observing manatees while a part of a boat tour. "I started documenting so we could report it. That's why I have the photos and video in the first place."
Anyone who may have information about who committed this crime are being asked to call 888-404-3922.
This article was originally published on