Trump Tweets Insults At Greta Thunberg, Again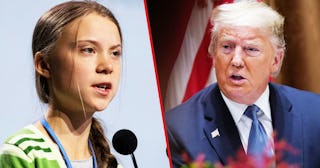 Pablo Blazquez Dominguez/MANDEL NGAN/Getty
Trump is once again publicly mocking climate activist Greta Thunberg, but she continues to stand up for herself
It's not terribly surprising that Time magazine named 16-year-old climate activist Greta Thunberg Person of the Year for 2019. It's also not terribly surprising that Donald Trump didn't take that very well.
Trump has a weird obsession with Time and its Person of the Year honor, and he definitely has issues with Thunberg — remember when he cruelly mocked her on Twitter after she gave a passionate speech to the United Nations about protecting the planet? The backlash at that point was pretty swift, but doesn't seem to have done anything to convince the president that it's pretty messed up when a grown man torments a literal child on social media, because he's doing it again.
Here's how Trump responded to someone who congratulated Thunberg on her honor.
To her credit, Thunberg is taking this like a champ. While being trolled by anyone online, let alone the freaking president of the United States, usually has me deciding to take a break from the internet for the rest of the day, Thunberg responded by updating her Twitter bio again.
Now, in no world is it OK for this to be happening. A grown man should be better than mocking a teenager. Can we at least still agree on that, America? But at least Thunberg is standing up for herself, and doing so with more grace than a lot of us would probably have in a similar situation.
It's no wonder this Person of the Year situation got Trump so riled up — his bizarre obsession with Time and its yearly honor dates back almost a decade, long before he was president.
"I knew last year that @TIME Magazine lost all credibility when they didn't include me in their Top 100," he tweeted in October 2012. In 2015, when Time chose German Prime Minister Angela Merkel as its Person of the Year, Trump tweeted, "I told you @TIME Magazine would never pick me as person of the year despite being the big favorite They picked person who is ruining Germany."
You might remember 2017, when Trump lied about being in the running for Person of the Year, and said that he had turned it down.
"Time Magazine called to say that I was PROBABLY going to be named 'Man (Person) of the Year,' like last year, but I would have to agree to an interview and a major photo shoot. I said probably is no good and took a pass. Thanks anyway!" he tweeted that time.
Oh, and several of Trump's golf course clubs have fake Time covers hanging on their walls featuring him in 2009 as host of The Apprentice.
Congratulations to Greta Thunberg, who deserves this honor in every way and continues to show it.