Crowd Cheers Trump On As He Mocks Dr. Christine Blasey Ford's Testimony
by Valerie Williams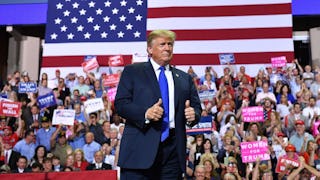 Image via MANDEL NGAN/AFP/Getty Images
Trump mocked Ford's answers to questions relating to her accusation of sexual assault against Supreme Court nominee Brett Kavanaugh
During a rally in Mississippi, Donald Trump let loose with his anger at Dr. Christine Blasey Ford. She (credibly) accused his Supreme Court nominee, Brett Kavanaugh, of sexual assault. Apparently his dam broke last night when he went on a mocking tirade, calling Ford's testimony into question — to the uproarious cheers of his followers.
After three years of listening to the vileness spewing from his mouth, I can honestly say this is among the worst things he's ever said. And that's saying a lot. I found this clip truly difficult to stomach.
"Thirty-six years ago this happened," he said, before tearing into Ford's testimony. "How did you get home? 'I don't remember.' How'd you get there? 'I don't remember.' Where is the place? 'I don't remember.' How many years ago was it? 'I don't know,'" he sneered.
"What neighborhood was it in? 'I don't know.' Where's the house? 'I don't know.' Upstairs, downstairs, where was it? 'I don't know. But I had one beer. That's the only thing I remember.'"
It's hard coming up with words for how unbelievably disgusting he is. It's stunning.
One of the most heartbreaking aspects of this circus? Little girls were in the audience. Little girls brought by their parents and grandparents — the people who love them most. They brought little girls to hear the most powerful man in the world mock an incredibly brave woman who made herself vulnerable to ridicule and death threats all in the name of speaking her truth and performing her civic duty. Make no mistake — these little girls, sadly, are listening.
It seems like every day the president hits a new low. This is possibly the lowest of the low. He mocked a sexual assault survivor, and as if the leader of the free world singling out a private citizen for public ridicule weren't appalling and heartbreaking enough, an entire crowd gleefully cheered him on.
He tells them, "Think of your husbands. Think of your sons." He says Kavanaugh's life is now "in tatters" and told his followers to think of what this has done to his family. "These are really evil people," he said, apparently referring to Kavanaugh's accusers and those who support them.
Not one word of concern about Kavanaugh's accusers and their families, obviously.
Of course, we can easily determine where most of his ire comes from — he's had 22 women accuse him of sexual assault and sexual harassment dating back as far as the 1970s and as recently as 2013. Just this past week, he told reporters that all the allegations are false and made by "women who got paid a lot of money to make up stories about me."
Twitter erupted as video of the gross display began to circulate.
Some recalled how Ford said during her testimony that Kavanaugh's laughter during and after her attack was something that traumatized her deeply. Now, Trump and an entire crowd of vicious supporters are laughing at her too. This is absolutely unspeakable.
Michael Bromwich, an attorney for Ford, tweeted about Trump's remarks calling them "a vicious, vile and soulless attack" on his client. "Is it any wonder that she was terrified to come forward, and that other sexual assault survivors are as well?" he said. "She is a remarkable profile in courage. He is a profile in cowardice."
Before cruelly attacking and mocking Dr. Ford, Trump was telling reporters he found her testimony "credible." "I thought her testimony was very compelling and she looks like a very fine woman to me, very fine woman," he said. "It was an incredible moment I think in the history of our country," he continued. "But certainly [Ford] was a very credible witness. She was very good in many respects."
That all seemed to change yesterday when The New York Times broke a mind-blowing story detailing the actual amount of money Trump inherited from his parents (as the Times notes, he's always insisted it wasn't much) — and how he and his siblings constructed a tax scheme to increase the fortune they would one day receive. It looks like his fury at being humiliated meant that whatever restraint he had when it came to sharing his true thoughts on Dr. Ford was totally gone.
I can only hope women are paying attention — and taking their feelings to the polls next month.