Trump Picks Two Male CEOs To Advise Him On Women In The Workforce, Because Of Course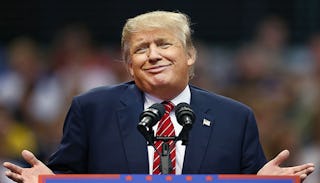 Image via Tom Pennington/Getty Images
Trump taps two male CEOs to advise him on women in the workplace
Donald Trump met with top business leaders last Friday to discuss issues ranging from taxes to regulation to women's issues. Who better to give advice on women in the workforce, than two male CEOs?
If we hadn't seen commercials for The Apprentice and various videos of Trump out and about bragging about violating women, we'd think he'd been frozen in ice for several decades. Alas, no. He just really, really likes surrounding himself with white men. Why veer from that demographic at all?
Doug McMillon, chief executive of Wal-Mart, and Mark Weinberger, chief executive of EY are the two CEOs Trump tapped for advice on women in the workforce. Qualifications? They've hired women. Duh. I guess Mary Barra, CEO of General Motors was busy. So was Sheryl Sandberg, COO of Facebook. And Indra Nooyi, CEO of PepsiCo. And Marissa Mayer, CEO of Yahoo. Meg Whitman, Hewlett Packard's CEO was probably also busy. Should we go on?
"There is no context offered for why McMillon and Weinberger were selected," reports Time. Ha. Of course there isn't.
This news came around the same time Trump was slammed on Twitter for some insider information that revealed he likes his female staffers to "dress like women." Whatever that means. Maybe some male CEOs could clear it up for us. They've seen women in clothing before, so they would probably be the best ones to ask about female fashion.
Isn't Ivanka supposed to be writing the book on women who work, literally? Oh, yeah, her publisher put her book, Women Who Work on hold out of fear the world would start laughing on its release date and never stop. Okay, that wasn't the reason. USA Today reports "Citing 'momentous changes' in her life, like her father being elected president, Ivanka Trump and her publisher are pushing back the release of her book… According to the publisher, the book reflects Ivanka Trump's 'continuing commitment to inspire and empower women to define success on their own terms and to create the lives they want to live.'"
Since you are one of the few women he actually takes seriously, could you do us a favor and tell your dad that professional women exist, and may just be the best candidates for shaping policy that has to do with women in the workforce? That would be great.
This article was originally published on