Trump Just Praised A Congressman For Assaulting A Reporter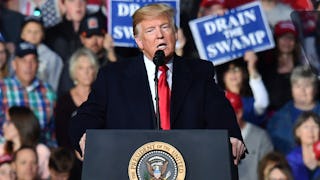 Image via NICHOLAS KAMM/AFP/Getty Images
At a rally last night, Trump had words of praise for a Montana congressman who assaulted a reporter last year
Another day, another completely horrific headline about the actual president that would be a presidency-ender for pretty much any other president (and somehow, it will only be in the news for a day or two.) During a rally in Montana last night, Donald J. Trump (the J stands for jerk!) gave props to a congressman for assaulting a reporter during his campaign.
How nice.
The lunatic-in-chief made a body slam gesture after singing the praises of Montana Republican Rep. Greg Gianforte, who was convicted of assault last year after attacking a reporter. "Any guy who can do a body slam … he's my guy," said Trump to a crowd of thrilled fans.
CNN reports that Gianforte pled guilty to misdemeanor assault in June 2017 after being convicted of assaulting Ben Jacobs, a reporter for The Guardian. Gianforte "body slammed" Jacobs on May 24, 2017 during a campaign event where Jacobs dared ask him a question about the Republican healthcare bill that he didn't like.
The next day, Gianforte won the election.
He was sentenced to a 180-day deferred jail term, 40 hours of community service, 20 hours of anger management, and a $300 fine. He also apologized to Jacobs in a letter. "My physical response to your legitimate question was unprofessional, unacceptable, and unlawful," he said. "I made a mistake and humbly ask for your forgiveness."
But as Trump gleefully predicted after hearing the news of Jacobs' assault, it had no effect on Gianforte's political ambitions. Trump says at first, he was concerned it would hurt the candidate. "Then I said, well wait a minute, I know Montana pretty well, I think it might help him. And it did," he recounts.
The crowd last night certainly seemed into it when Trump basically said a politician who beats up reporters is "his guy." They just cheer and cheer — at the idea of someone beating up reporters.
The White House Correspondent's Association sharply condemned Trump's words.
CNN White House correspondent Jim Acosta was there last night and shared a disturbing anecdote about a member of the crowd.
This is not in any way OK.
Especially chilling is that Trump's comments come on the heels of the horrifying story of missing and presumed dead Washington Post journalist Jamal Khashoggi in the Saudi consulate in Istanbul.
A point also mentioned by Guardian US editor John Mulholland.
Trump truly doesn't even try to hide anymore that he's not too concerned about the lives and physical safety of members of the press — which should alarm every American, but instead, only delights his base.
Which is the most horrifying fact of all.
This article was originally published on