Trump Admin Won't Grant Temporary Protected Status To Those Who Fled Bahamas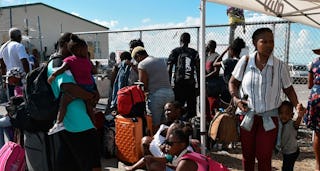 Leila Macor/AFP/Getty Images
Bahamian victims of Hurricane Dorian won't be temporarily allowed to live and work in the US
Nearly two weeks after hurricane Dorian devastated the Bahamas, an estimated 17 percent of Bahamian residents are now without shelter. However, those approximately 70,000 people aren't going to get much help from the United States government.
According to NBC News, after consideration, the Trump Administration will not be granting temporary protected status to people from the Bahamas. This would have allowed them to live and work in the country until it would be safe to return home. According to the news outlet, 300,000 people are currently living and working in the United States with the same status – including victims of the 2010 earthquake in Haiti. Bahamians will still be able to temporarily come to the US if they have the proper travel documents, but will be unable to work.
People on social media were stunned by the decision.
At least 50 people were killed after Dorian flattened homes in the Bahamas on September 1. The number of missing people dropped dramatically on Thursday, from 2,500 down to 1,300, National Emergency Management Agency spokesman Carl Smith announced.
In addition to losing their lives, homes, and jobs, some families have been forced to separate. One Bahamian family is currently dealing with a nightmare situation, with the United States government refusing to release their 12-year-old daughter after she fled to the US with her godmother.
Thankfully, many Americans are rallying to help undo some the damage done by the natural disaster. On Thursday, professional golfer Tiger Woods and Justin Timberlake announced they were teaming up to help the Bahamas by setting up a relief fund and donating a significant amount of money.
"As a strong believer in philanthropy and teamwork, I'm excited to partner with my friends @jtimberlake, #NEXUSLuxuryCollection, @rbc and @albanybahamas to establish the ONE Bahamas Fund in support of Hurricane Dorian relief, recovery and rebuilding efforts," Woods tweeted.
The group has already donated $6 million to the cause, and promise to match any donations made by the public.
Additionally, retired NBA star Michael Jordan announced on Tuesday that he was donating $1 million to organizations assisting with relief efforts. Corporations, such as Disney and Bacardi, as well as Royal Caribbean and Carnival Cruise Lines are also rallying for the cause by making major financial contributions.
All the relief funds will certainly help the Bahamas and the Bahamian people rebuild their country and their lives. However, so many of the victims could have seriously benefited from being able to temporarily live and work in the United States. It's unclear why the government has decided to deny them this opportunity, when so many others have been afforded it.