Trump Wants An Apology From Congresswomen After HIS Racist Tirade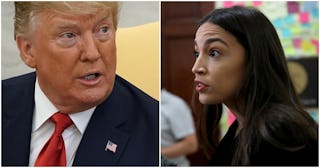 Getty/BRENDAN SMIALOWSKI
Trump doubles down on his awful racist tirade with even more awful racism
For the third time in two days, President Donald Trump doubled down on his racist, xenophobic, and misogynistic tweets aimed at four freshmen Congresswomen by asking them to apologize to him after he told them to go back to their own countries.
Trump took to Twitter earlier today asking the women to apologize after blasting them in a series of tweets the day prior. "When will the Radical Left Congresswomen apologize to our Country, the people of Israel and even to the Office of the President, for the foul language they have used, and the terrible things they have said. So many people are angry at them & their horrible & disgusting actions!"
His response comes after the Congresswomen and many others called him out for being racist in a series of tweets attacking the women — Reps. Ayanna Pressley, Rashida Tlaib, Alexandria Ocasio-Cortez, and Ilhan Omar — and telling them to go back where they came from, saying in part, "Why don't they go back and help fix the totally broken and crime infested places from which they came." It makes sense at this juncture to point out Pressley was born in Cincinnati, Tlaib in Detroit, and Ocasio-Cortez in New York. Omar has been a U.S. citizen since she was a teenager and came to America as a young child.
In a letter to her colleagues, House Speaker Nancy Pelosi said that Trump had gone "beyond his own low standards using disgraceful language about Members of Congress," adding that Trump "reaffirms his plan to 'make America Great Again' has always been about making America white again. Our diversity is our strength and our unity is our power."
Each of the women he targetted has responded, causing him to demand the apology. "WE are what democracy looks like," Pressley said. "And we're not going anywhere. Except back to DC to fight for the families you marginalize and vilify everyday."
Trump was asked about his series of hate-filled tweets in a press conference on Monday and whether "people saw the tweet as racist, and that white nationalist groups are finding common cause with you on that point." Trump replied, "It doesn't concern me because many people agree with me," denying his tweets were racist in the least, NPR reports.
A few Republicans have spoken out against Trump's remarks, including Sen. Lindsey Graham, who said Trump should "Aim higher. They are American citizens. They won an election. Take on their policies," on a Fox and Friends segment this morning, but for the most part, they have remained silent, allowing his abhorrent remarks to continue to degrade all Americans. Oh, and even in his admonishment of Trump's remarks, Graham still managed to slip in that he thinks the four women are "Communists."
"It's important to note that the President's words today, telling four American Congresswomen of color 'go back to your own country,' is hallmark language of white supremacists," Ocasio-Cortez said. "Trump feels comfortable leading the GOP into outright racism, and that should concern all Americans."