Trump Administration Won't Let U.S. Embassies Fly Rainbow Pride Flags
by Thea Glassman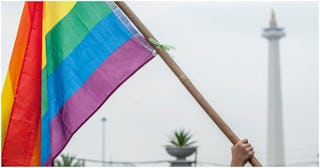 NurPhoto/Getty
The Trump administration told US embassies that they couldn't fly rainbow flags for Pride Month
So, here comes another awful story from our current administration. Three American diplomats told NBC News that Trump's State Department denied requests from U.S. embassies to fly rainbow flags on their main flagpoles for pride month. This decision is completely disappointing and sadly pretty unsurprising.
According to the report from NBC News, U.S. embassies including Israel, Germany, Brazil, and Latvia requested to fly the rainbow flags from their flagpoles. They were denied that request. The embassies were allowed to put the flags elsewhere, like inside and outside the embassy building, but – for some reason – the administration did not feel good about having the pride flag on the main flagpole.
This stands in stark contrast to the Obama administration, which allowed all embassies to fly the flag on the building's main flagpole.
This is a pretty notable move, considering the fact that Trump tweeted out his support of the LGBTQ community at the start of pride month.
"As we celebrate LGBT Pride Month and recognize the outstanding contributions LGBT people have made to our great Nation, let us also stand in solidarity with the many LGBT people who live in dozens of countries worldwide that punish, imprison, or even execute individuals on the basis of their sexual orientation," he wrote. "My Administration has launched a global campaign to decriminalize homosexuality and invite all nations to join us in this effort!"
So, that's a nice sentiment and all but when your administration denies a super simple request to fly a rainbow flag then it's not really putting your money where your mouth is.
People had many, many thoughts on why this decision is so damaging and indicative of a larger problem of discrimination within the administration.
Some embassies are finding creative ways to celebrate Pride Month anyway, according to The Washington Post. The front of U.S. missions in Seoul, South Korea and Chennai, India are covered in rainbow flags. The embassy in New Delhi has been splashed with rainbow lights."This is a category one insurrection," one diplomat told the Post.
Another employee added that ambassadors are careful not to discuss their sexuality out of fear of discrimination from the administration. "We fly below the radar. We survive because they don't realize we're here."
Their fears aren't unwarranted. In the beginning of June, the Trump administration officially enacted a ban on transgender people who have gone through a gender transition or been diagnosed with gender dysphoria from joining the military. Trump first tweeted about this decision in 2017, saying that the military could not support the costs of Trans individuals (fact check: this is not even remotely true).
"After consultation with my Generals and military experts, please be advised that the United States Government will not accept or allow Transgender individuals to serve in any capacity in the U.S. Military," he wrote. "Our military must be focused on decisive and overwhelming victory and cannot be burdened with the tremendous medical costs and disruption that transgender in the military would entail. Thank you."
Again, incredibly, incredibly awful and not even remotely unsurprising. Sending lots and lots of love and support to everyone celebrating Pride month.