Trump Refuses Virtual Debate, Prefers To Keep Infecting People With COVID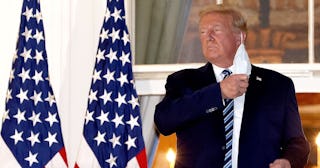 Win McNamee/Getty
Trump now says he's holding a rally instead of attending the virtual debate
Our extremely COVID-positive president is throwing a giant man-baby hissy fit over debating Joe Biden virtually next week, rather than in-person. The Commission on Presidential Debates announced this morning that the second presidential debate between Donald Trump and Joe Biden will be held virtually to minimize the risk of spreading the coronavirus. You know, because the president (along with 38+ people within his administration and staff) has it right this very minute.
Trump immediately dismissed the idea of a virtual debate, saying it's "not acceptable." Now this is just speculation, but perhaps it has something to do with the fact that he is never seen operating a computer and instead, posts photographs of himself signing blank sheets of paper with a Sharpie? Maybe he's intimidated by Zoom, who knows?
"I heard that the commission a little while ago changed the debate style, and that's not acceptable to us," Mr. Trump said in a phone interview with FOX, per CBS News. "I'm not going to waste my time on a virtual debate. That's not what debating is all about. You sit behind a computer and do a debate, it's ridiculous. And then they cut you off whenever they want."
What's really ridiculous is that millions of us have been operating virtually for seven months — at work, at home, with our social lives, with family members we can't see — because of the coronavirus. The virus the president is currently sick with because of his own negligence.
Trump's campaign manager, Bill Stepien (who also recently tested positive for the virus, imagine that) confirmed his boss's decision: "We'll pass on this sad excuse to bail out Joe Biden and do a rally instead."
A rally! A RALLY. The COVID-carrying president, unsatisfied with the current spread rate of the pandemic, wants to hold another super-spreading event to ensure that his supporters will be dead before they can even make it to the polls to vote for him. (Is this your king, Trumpers?)
The debate commission initially scheduled the second, "town hall" style debate for October 15 in Miami. After Trump's COVID diagnosis, they changed it to a virtual setting in which the candidates would participate from separate remote locations "in order to protect the health and safety of all involved with the second presidential debate."
Once again, it's because ONE OF THE CANDIDATES HAS THE THING THAT'S ALREADY KILLED 211,000 PEOPLE IN THIS COUNTRY.
Biden, ever the class act in a constant clown show, said he would still participate in the virtual debate, and is "looking forward to speaking directly to the American people." Though it remains to be seen if a debate can even happen without Trump's participation.
"I don't know what the president is going to do. He changes his mind every second," Biden said this morning, per CBS News, before boarding a plane in Wilmington, Delaware. "For me to comment on that now would be irresponsible. I think that if I can follow the commission's recommendations — if he goes off and has a rally, I'll — I don't know what I'll do."
And that, right there, sums up everyone's collective feelings about every move Trump has made since 2016.