A Florida Trump Resort Just Canceled Their Strip Club-Hosted Golf Tournament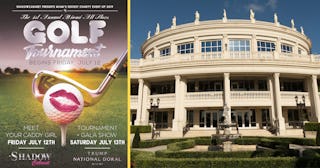 Shadow Cabaret and The Washington Post/Getty
A strip club's golf tournament at one of Trump's Florida resorts has been canceled
President Trump's golf resort in Doral, Florida was scheduled to put on a golf tournament on Saturday, July 13, 2019, hosted by a strip club called Shadow Cabaret. Golfers could pay for women to act as their "caddy girl" and the after-party was being held at the strip club. Eventually, the charity set to benefit from the tournament pulled out and the whole thing was canceled.
According to ExoticDancer.com, the "Shadow All Star Tournament" was scheduled to be held at the Trump National Doral hotel in Doral, Florida. Golfers would bid via auction on the "caddy girl of their choice" who would be wearing pink miniskirts and "a sexy white polo," according to Emanuele Mancuso, Shadow Cabaret's marketing director. After the tournament, golfers would head over to the actual strip club for a "very tasteful" performance, which could include nudity. Golfers could also purchase "charity packages" which included several nights stay at the Trump Doral hotel and a half hour in the strip club's "VIP Room." You know, just the kind of charity event we've come to expect from our nation's Republican president aka the party of "Christian values."
The flyers for the event are wild and prominently feature the Trump logo.
According to The Washington Post, the Trump organization — which Trump still owns, though he has turned day-to-day operations over to his sons — was well-aware of the event and said it was for a "worthwhile cause."
Naturally, there was backlash.
Eventually, the whole thing was canceled because the charity that was supposed to benefit from the event pulled out. We repeat: The charity didn't even want whatever money the Trump/Stripper event might raise.
The charity in question is the Miami All-Stars, which is a basketball-themed charity that provides "fitness, nutrition, basketball and academics" to about 40 children in the Miami area. Carlos Alamilla, the organization's director, told The Associated Press on Wednesday, July 10, 2019, that he withdrew because he wasn't aware a strip club was involved and suggested that they cancel the event entirely.
"The event was originally booked with the understanding that it would be raising money to support a local charity benefiting underprivileged children," a Trump Organization spokeswoman said in a statement. "Now that the charity has removed its affiliation, the event will no longer be taking place at our property and all amounts paid will be refunded."
Shadow Cabaret issued their own statement (via the Sun Sentinel) and wrote: "We want to apologize to anyone that may have been offended by the tournament. Our intention was to raise money for a deserving local charity."
In other news, the next presidential election is in less than two years, in case you want to elect someone who doesn't own a bunch of hotels and thinks strip-club-based charity events are a good idea.