Trump Retweeted An Anti-Muslim Hate Group 3 Times This Morning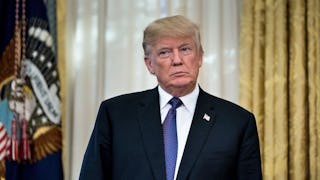 Image via BRENDAN SMIALOWSKI/AFP/Getty Images
The president promotes hatred on Twitter
This morning the president retweeted three videos from an anti-Muslim hate group. The president. Of the United States. He retweeted videos from a group led by a woman who's been convicted of hate crimes. The videos have been up since 6 AM. The White House is offering excuses instead of apologies.
The three videos that Trump retweeted show various crimes that the hate group Britain First claims were committed by Muslims. (The video of a "Muslim migrant" beating up a boy on crutches has already been proven to be a fake.)
These videos come from a woman named Jayda Fransen, the deputy leader of a hate group called Britain First. If you've never heard either of these names before, have yourself a seat and get ready for some background information that will make you rage-vomit your lunch.
Britain First is an anti-Islamic hate group that describes itself as "…a patriotic political party and street movement that opposes and fights the many injustices that are routinely inflicted on the British people…We love our people, our nation, our heritage and culture and will defend them at all times and no matter what odds we face."
As for Fransen, she was convicted of a hate crime last year after she harassed a Muslim woman named Sumayyah Sharpe while on a "Christian patrol" in Luton, England. Fransen admitted she yelled to Sharpe that "…Muslim men forced women to cover up to avoid being raped 'because they cannot control their sexual urges', adding 'that's why they are coming into my country raping women across the continent,'" according to The Guardian. Sharpe was with her four children at the time.
This is Trump's source. This is the person and group whose viewpoints he promoted to his over 43 million followers. This president, through these tweets, has supported racism, Islamophobia, and violence against Muslims. Period. You can't explain it any other way. And that should horrify all of us.
The White House is doing its best to make this go away. Just hours ago, Sarah Sanders, White House Press Secretary, told reporters the following when asked about the president's tweets: "Whether it's a real video, the threat is real. His goal is to promote strong border security and strong national security."
Sorry, I was busy crying and screaming — did she say that it doesn't matter whether or not the videos are real? Really? The Sheriff of Fake News says it doesn't matter if the president retweeted fake videos? Unreal.
So don't talk to me about his tax plan. Don't talk to me about his "strategy" for handling North Korea. All of that is null and void because today the man making those decisions clearly and unabashedly used his Twitter account to promote a fear and hatred of Muslims. We shouldn't take anything else he has to say seriously until this is addressed.
But will it be? Two years ago, I would have said, "Of course! That man's going to be run out of town faster than you can say 'goddamn racist.'" Now, I have no idea. If this becomes another temporary outrage, then our country is truly lost. If we can let this pass, then we're far from "a shining city upon a hill." If we allow this and don't force the president to account for his behavior, then that light has been snuffed out.
And I'm not sure we will ever see it again.