Trump Asks If Flu Vaccine Can Help Stop Coronavirus
by Julie Scagell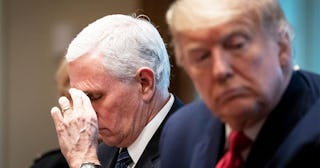 Drew Angerer/Getty
Donald Trump again displayed his lack of understanding about coronavirus
President Trump held a roundtable on the coronavirus outbreak, including his task force and several pharmaceutical company CEOs. Despite being told the exact same information last Thursday during a White House briefing, Trump again seemed confused by future vaccination availability, at one point asking if the flu vaccine could be used to combat COVID-19.
The number of coronavirus cases across the nation surged to more than 100 as of today, with six deaths attributed to the outbreak. As the stock market continues to plunge and the Federal Reserve now cutting interest rates by half a percentage point to help stabilize the economy, people are understandably concerned about if, and when, the outbreak will be contained. But Trump doesn't seem to understand the severity of the situation (nor does Pence who he nominated to oversee the task force), continuing to show the country his lack of grasp on reality.
Trump peppered the drug company executives with questions about the timing of a possible vaccine for COVID-19, saying, "How fast can you get it done?" despite weeks of meetings with experts on the subject. He also seems perplexed that in order to create a vaccine, months and months of trials would have to be completed before it's ready for the general public. According to The Washington Post, he then asked whether the flu vaccine could be used to combat coronavirus.
During the roundtable, Trump continued to press attendees about the timing, confusing when the trials would start (possibly as early as August) with when an actual vaccine would be ready (possibly a year to a year-and-a-half from now). "So you're talking over the next few months, you think you could have a vaccine?" he asked, to which the group had to re-clarify again that this was for trials only.
"A little — a little longer," founder and chief executive of Regneron, Leonard Schleifer again clarified. "A little longer." "A couple of months, right?" Trump said. "I mean, I like the sound of a couple of months better, I must be honest with you."
All of this comes days after a White House briefing last Thursday, where the head of the National Institute of Allergy and Infectious Diseases Anthony Fauci laid out a detailed timetable for trials and a possible vaccine saying in part, "So although this is the fastest we have ever gone from a sequence of a virus to a trial, it still would not be applicable to the epidemic unless we really wait about a year to a year and a half."
Meanwhile, today Vice President Mike Pence said the U.S. outbreak includes more than 40 "domestic cases," mostly in California and Washington state, also seemingly downplaying the actual number because some of those cases originated outside the U.S.
This article was originally published on