Trump Suggested 'Shooting Migrants In The Legs' To Prevent Border Crossings
by Cassandra Stone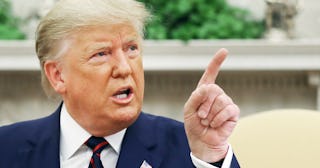 Chip Somodevilla /Getty
During a meeting earlier this year, Trump suggested shooting migrants to 'slow them down'
The New York Times is reporting that, during an Oval Office meeting in March of this year, Donald Trump wanted to shut down the U.S.-Mexico border. But that's not all — he also suggested "shooting migrants in the legs" in order to "slow them down" after they crossed the border. This was after his staff informed him that shooting migrants who throw rocks is, in fact, illegal.
In an excerpt from the book "Border Wars: Inside Trump's Assault on Immigration" that cites interviews with more than a dozen White House and administration officials, The Times says Trump's "rage" at the happenings at the border led him to come up with several off-the-wall ideas to manage the crisis according to his preferences.
Aside from committing attempted murder of migrants as a "solution," Trump also privately suggested fortifying a border wall with a moat stocked with snakes and/or alligators — and asked his staff to actually seek an estimate for such a plan.
His advisers apparently felt as though his plans would not only trap American tourists in Mexico and strand children at schools on both sides of the border, but could also create an economic meltdown in both countries.
Quick reminder that back in May, Trump and one of his rally crowds laughed and cheered when a person shouted about the government shooting immigrants.
When it comes to the president's border wall, which he assured voters would be paid for by Mexico during the 2016 campaign and beyond, the money trail is worth noting. Last month, Defense Secretary Mark Esper announced that $3.6 billion in funds affecting 127 military projects would be delayed or suspended and diverted away to fund the border wall. This money was initially meant to fund schools for US military families across the world, to make matters even worse.
According to the Pentagon, some of the projects that the wall is taking funds from include $13 million for a "child development center" at Joint Base Andrews in Maryland — the home of Air Force One, $95 million for an elementary school at Camp McTureous in Japan, $80 million for an elementary school project in Spangdahlem Air Base in Germany, and $62 million for a middle school in Kentucky.
The Times reports that during the March meeting, Trump had an outburst over his staff: "You are making me look like an idiot!" Mr. Trump reportedly shouted, with profanity. "I ran on this. It's my issue." The meeting included Stephen Miller, then-Homeland Security Secretary Kirstjen Nielsen, Secretary of State Mike Pompeo, then-Customs and Border Protection chief Kevin McAleenan, acting chief of staff Mick Mulvaney, presidential adviser and son-in-law Jared Kushner and other senior staff.
Many members of his staff reportedly tried to reason with him, but Trump wasn't open to hearing logical or reasonable solutions: "All you care about is your friends in Mexico," the President responded, the Times says. "I've had it. I want it done at noon tomorrow."
Since March, Trump has continued to face resistance in the courts and with much of the public about his immigration stance. Even still, those who have tried to reason with him or restrain him from acting on his ideas have mostly been fired.