Trump Lashes Out At Reporter: 'Don't Ever Speak To The President That Way'
by Julie Scagell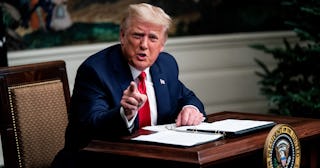 Erin Schaff - Pool/Getty Images
And the entire back and forth took place while Trump sat behind a humorously tiny desk
It appears reminding Trump he did, in fact, lose the election really gets under his skin. When a reporter asked the president if he would finally concede to Joe Biden if the Electoral College votes in favor of Biden, Trump lost the few marbles he has left, calling him a "lightweight."
During a pool spray on Thanksgiving, Reuters White House correspondent Jeff Mason asked Trump about his concession and when Trump answered his question by continued claims of voter fraud, Mason asked him again. That made Trump quite cross, and he let Mason know it.
"Just to be clear: If the electoral college votes for Joe Biden, will you concede?" Mason asked Trump.
"Well, if they do, they've made a mistake, because this election was a fraud, just so you understand. This election was a fraud," Trump responded, again repeating unproven claims of widespread fraud. "They have Biden beating … Obama's vote. And yet he's losing to Obama all over the place … so, no, I can't say that at all."
When Mason tried again to ask the same questions, Trump lost his shit, saying, "Don't talk to me that way. You're just a lightweight. Don't talk to me that way. Don't talk to — I'm the president of the United States. Don't ever talk to the president that way."
Now, I'd be remiss if I didn't mention the pool spray and his address from the White House took place from an unusually tiny desk. Trump spent time before taking questions recapping his calls to service members on the holiday, then bragging about Space Force, and calling the election "rigged" for the one billionth time without any evidence. But it was hard to concentrate on any of it because of the sheer size of the room in comparison to the aforementioned desk.
Of course, it only took the good people of Twitter but a moment to comment on it:
It's obviously difficult to take Trump seriously, well, in general, but it's especially hard as he lashes out from behind a very small desk. This pool spray, which is when the White House invites reporters to ask questions of the president, was the first time Trump has taken questions from press since Biden was announced president-elect.
After his outburst, Trump called on the next reporter who basically asked the same question in a different way, inquiring if Trump would "leave the building" if President-elect Biden's victory is confirmed. His response was that he "certainly" would.
Just 53 days, people. Fifty-three days.