A Trump 'Smash Cake' Is One Way To Cope With This F*cking Election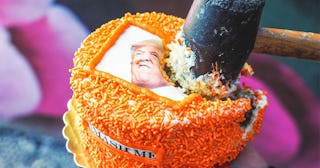 WesttownBakery.com
Smashing a Trump cake is exactly what your election night will need
There may be several things you will be smashing as election night closes in — a bottle of wine (or 12), your head against the wall, your leftover Halloween pumpkins, and now, thanks to a Chicago bakery, you can also smash an election night cake with Trump's face on it.
That's right, for just $15, you can buy a "Go Vote Smash Cake" from West Town Bakery in Chicago to help take your frustrations about the upcoming election out on something other than your immediate family. It's like smash cakes for a little one's birthday party but bigger, with either Trump or Pence's smug mugs on them, and likely a titch more swearing involved.
Plus, if you smash it gently, you can still eat it afterwards. Or, pulverize the shit out of it and eat it anyway. No one's judging. It's been a year of epic proportions and it's only fitting that we have more things at our disposal to throw around to keep us from going over the edge (again).
West Town Bakery is making two versions of the cakes — one with President Donald Trump's face and the other with Vice President Mike Pence (… and the fly from the recent Vice Presidential debate because of course). The cakes only come in vanilla with vanilla frosting which perfectly sums up both men to a tee, and have "smash me" written on the side (as if we needed more motivation), along with decorative sprinkles.
The best part? A portion of the proceeds from the cakes will go to the ACLU of Illinois 2020 Election: Let People Vote Campaign, which is helping voters in Illinois get access to voting by mail during the pandemic. "The COVID-19 pandemic creates concern for many about voting in person on Election Day," they said on their website. "Many states and municipalities are responding by creating greater access to voting by mail. In Illinois, opportunities to vote by mail have been expanded. This election it's important that every voice gets heard at the ballot box."
"We encourage everyone – our employees included – to go to the ACLU of Illinois website and register to vote and know your voting rights," The Fifty/50 Restaurant Group co-founders Greg Mohr and Scott Weiner said on the company's website. "Vote like your life depends on it – because it truly does. Everyone's voice deserves to be heard in this election."
West Town Bakery's needs 72 hours advance notice to ensure their team can keep up with demand, so factor this into the equation when timing out the day of the smashing and to make sure you have ordered enough for your level of rage. They will be available to order through Election Day. If you need a different color (like blood red), size, or design, you can email the bakery at cakes@westtownbakery.com and they will try their best to accommodate.
This article was originally published on