Trump Uses Mass Shooting Deaths By WHITE MALES To Try To Get His Way On Immigration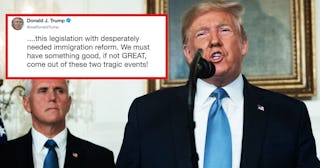 SAUL LOEB/Getty and Donald Trump/Twitter
After a weekend of shootings by white males, the president's speech took aim at mental illness and immigrants
In a speech delivered from the White House on Monday, Trump addressed a mourning nation after a weekend of horrific mass shootings. But instead of focusing on the full-blown crisis that is white males in America going on shooting sprees, he focused on other things. Like mental illness, immigrants, and video games.
He also aired his concerns on Twitter earlier in the day to talk about how immigration reform is "desperately needed." Between the violence in both El Paso, Texas and Dayton, Ohio, 29 people were killed and many more were injured. Neither of these attacks were by committed by immigrants.
Trump talked a lot about hate, too, and the irony was, well, intense. He sure did a lot of blaming "hate" for someone who is so into hate-speech.
"Hatred warps the mind, ravages the heart, and devours the soul," he remarked in his nationally televised speech. They are strong words from a president who has been largely criticized for encouraging and stoking white nationalism himself. Many feel the president's anti-immigrant rhetoric and policies are at least partially responsible for the surge in hate crimes since he took office, specifically, when it comes to crimes committed by white supremacists.
When Trump routinely uses racist language to talk about immigrants, it's increasingly tough to believe there isn't a connection when it comes to violence against them. It's unclear what the Ohio shooter's motive was, but the El Paso attack was clearly racially-motivated. The shooter was a white nationalist who posted a hate-filled anti-immigrant rant online just before walking into a Walmart and opening fire. Officials believe he was targeting Hispanic people.
This crime is drenched in racism. Soaked. It runs so deep that not only were immigrants cruelly targeted, the people of El Paso weren't even seeking medical help because they were terrified of being reprimanded by ICE if they did. The president failed to mention that. Even though this terrorism is homegrown, and both the recent shooters were white males, the president wanted to talk about immigration laws instead.
He did so on Twitter this morning.
He also blamed, wait for it… fake news.
Trump condemned the "two evil attacks" and vowed to act "with urgent resolve." But he didn't elaborate much in his televised comments on what that resolve is, aside from the possibility of stronger background checks for those with mental illness. It was a point he really focused on, but it's unclear whether mental illness played a role in either of these shootings.
Of course, there's definitely no connection made by Trump to the fact that America has more guns than people. Zip. Zilch. Zero. Which is why the president, per usual, was careful not to blame guns. "Mental illness and hatred pull the trigger. Not the gun," he said. It was yet another statement that seemed to say, gun laws aren't likely to change, so quit asking.
We know by now, given that these shootings happen with horrifying frequency, that the president is not exactly amped on changing gun laws. He has even said in the past that stricter gun laws lead to more carnage, so we know where his head's at.
While the president talked a lot about the internet and video games, he really pointed to what hate does to people. But we can't look away from the fact that his anti-immigrant rhetoric isn't slowing down. Hate speech now comes directly out of the White House with so much regularity we almost forget to question it. It should go without saying that incessant chants about building walls and the normalization of keeping kids in cages will only lead to more violent crimes from those who buy into the harmful racist talk.
If Trump really wants to condemn hate, he needs to stop blaming immigrants for just about every violent crime that occurs. When it comes to hate, which he says spreads like wildfire on the internet, maybe he should take note of his own Twitter feed. Like, from this very morning. Because homegrown terrorists are listening. And they aren't immigrants. They are white males with guns and racist agendas.
This article was originally published on