Support Planned Parenthood With These Sweet 'Trump Sucks' Lollipops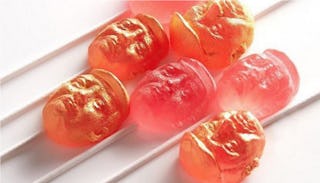 Image via Instagram.
All profits go to the International Planned Parenthood Federation
We've all been searching for the perfect way to show our disdain for Donald Trump since election night. A new dessert is here to help: suck on these "Trump Sucks" lollipops and support Planned Parenthood at the same time.
Smith & Sinclair is a U.K.-based company known for its edible cocktails has a new sugar coated treat that's sending a clear message: shove it, Trump. "Enjoy showing your friends Trump Sucks and take a moment with Trump that's easier to stomach than any other," the company wrote. The limited edition political dessert comes in two flavors: butterscotch and sea salt, and strawberry and mint.
The best part is that all profits raised from sales of the pops will go to the International Planned Parenthood Federation. The IPPF "provides and enables services and champions sexual and reproductive health and rights for all, especially the under-served." The organization is made up of 152 organizations working in 172 countries to ensure women have access to birth control and family planning. In 2011 alone the IPFF provided more than 89 million sexual and reproductive health services.
https://www.instagram.com/p/BSRtZstATsn/
Because Trump sucks, one of the first things he did in office was cut funding to these crucial organizations. He signed an executive order banning federal funding for international health organizations that perform or even talk about abortion services with patients. "I don't want to be pay for abortions here or anywhere," you could be thinking. Well, don't fret, because the U.S. never was doing so. "The 1973 Helms Amendment already prohibits foreign aid from going toward abortions; the Global Gag Rule goes a step further by barring NGOs who receive U.S. aid from providing abortions that they're paying for themselves or with other funds," The Cut reported.
https://www.instagram.com/p/BSQZJ2ejIph/
It's ridiculous that Trump and the GOP think they should be able to tell struggling nonprofits how to spend their own money, especially since restrictive laws against abortions don't stop women from having them. They just make unsafe abortions more common, according to the organization that tracks reproductive health care policy across the world, the Guttmacher Institute. By cutting off funding to these organizations, women will have an even harder time getting pills, IUDs, and other forms of birth control that prevent the need for abortions. If they really wanted to help women plan for their families they would have increased America's contribution to these international organizations.
Until someone in the GOP grows a conscience or the inevitable impeachment hearings start, the best thing we can do is donate to Planned Parenthood locally and buy some sweet treats that send a clear message to Trump: you suck.
The lollipop crafters said it best: "Best consumed by 2020 but ideally much, much sooner."