Gun-Toting Trump Supporter Terrorizes Drag Queen Story Hour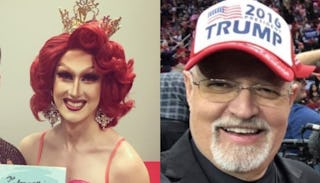 Image via Twitter/Regina Blake-DuBois
A Trump supporter previously banned from the library showed up to a Drag Queen Story Hour — with a gun
The Freed-Montrose Library in Houston, Texas had already banned James "Doc" Greene Sr. a month ago, but he felt the need to trespass on January 26th during the library's Drag Queen Story Hour to spread his message of intimidation and violence. He showed up with a gun about 15 minutes before the monthly event, which features drag queens reading to area kids and their parents.
According to Outsmart Magazine, he was detained by police, disarmed, and escorted out of the library. LGBTQ history podcast host Caelan Conrad shared from their Twitter account the story of Greene, a gun-toting Trump supporter who decided to show up to the Drag Queen Story Hour to let his hateful feelings be known.
"This Trump supporter showed up to a public library in Houston wth a gun because there was a drag queen reading stories to families. He started harassing employees and police. He had previously been banned from the library for filming children. His name is James Green Sr," Conrad writes.
Houston Police Department spokesperson Jodi Silva explains, "A manager asked us for assistance because [Greene] was banned from the library, and would not leave when he was asked," Silva says. "He was previously banned for filming children at the library, and has been known to cause disturbances. Several officers had to escort him out."
And Green, a conservative radio show host, didn't stop with bringing a gun to a children's story hour.
https://twitter.com/jetpack/status/1091112213593681920
He decided to share his vile views even more after arguing with the police.
https://twitter.com/jetpack/status/1091110931625582593
He then took to Facebook to blame the librarian for his alarming behavior — and to cry religious persecution, because of course. "Today I was arrested for being a white Christian, you may think you have freedom in this country because of the constitution but I can assure you that the constitution is no longer in force," he wrote. "The librarian at the Freed PUBLIC library had me arrested simply because she does not like having a Christian man in the library. They charged me with trespassing. I expect to get out of the hospital later today, this cannot stand, we must fight back."
Yesterday, the drag queen who was reading during last Saturday's event spoke out. "This was me," says Regina Blake-DuBois. "A man with a gun tried to get where I was, in a room full of children & parents, just trying to have a fun Saturday afternoon. I will never forget this monster's face."
For her part, Blake-DuBois only had positivity in response to Greene's hateful behavior, making a point to shout out the organizer of the story hour.
And was sure to give props to the author of one of the books she was featuring that day.
Which, by the way, you can order if you'd like:
Blake-DuBois also had the perfect reply for those asking what the children get out of the experience of Drag Queen Story Hour.
And for anyone wondering if this terrifying situation has given her any pause about continuing to read to the little ones? Not a chance.
After Greene was handcuffed and taken out of the building, officers took his gun and sent him away in an ambulance because at this point, he began complaining of chest pains. He was released six hours later and the police still have his firearm.
In the end, Blake-DuBois says that the event only strengthened her desire to do this important work.
The next DQSH at the library is on February 23rd, and Houston Police plans to be present to protect the children and parents. Not that they should need to be.