Mom And Her 7-Year-Old Daughter With Disabilities Heckled At Trump Rally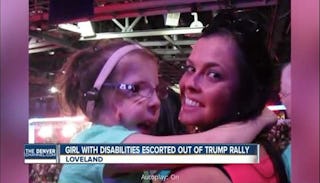 Image via KMGH
Seven-year old girl with disabilities and mother taunted by Trump fans
A Colorado mom says her seven-year old daughter, who has disabilities, is shaken after being heckled at a Donald Trump rally. The two were harassed for leaving early and then removed by the Secret Service.
Jennifer Mau told local news KMGH that she's an undecided voter and wanted to check out the Republican candidate for herself, so she and her daughter Chloe attended a rally. Mau was particularly interested in seeing what the rally was like for people with disabilities.
Chloe was born with several birth defects that have resulted in facial and internal organ anomalies. For example, Chloe doesn't have a jaw bone or fully developed ears and gets all of her nutrients through a feeding tube. She's had several surgeries in her short life, with more in her future. With so much to consider in the future for her daughter, Mau was weighing her options.
Mau said she sat among other people who have disabilities at the rally. After 20 minutes she decided to leave. In this video interview with a KMGH reporter, Mau says she was questioned by a supporter about why she was leaving early, and then yelled at by a woman as she tried to make her exit.
"Somebody said, 'why are you leaving?' and basically that struck a nerve," Mau told the reporter. It's no one's damn business why she's leaving early. This mom could've been leaving early for a million different reasons. Parents, haven't you had to duck out early from places before?
Mau responded to the Trump supporter who questioned her, "Why are you here? Why are you here? He makes fun of people like you." Which given the fact that the Trump supporter thought it was okay to inquire about her whereabouts, seems like a fair question.
With that, Mau decided it was really time to get out of dodge. So she scooped up her daughter and tried to make her way out, but a woman followed her. That's when things got hostile.
"This lady is following me, screaming and yelling at me that if I loved my daughter I'd vote for Trump, and that I need to get educated because he didn't mock somebody on purpose," Mau said.
The Trump fan and alleged harasser is referring to that time Trump so absurdly and disgustingly mocked a New York Times reporter who has a congenital joint condition. A glaringly obvious testament to the bully-like culture and tone that the Trump campaign seems so grossly hell bent on creating and perpetuating. An atmosphere that made Mau uncomfortable and frankly sick.
"It made me sad, it made me want to vomit," Mau said. She and her daughter were escorted out by the Secret Service which was probably a good thing for everyone's physical safety at that point.
A mother and her disabled daughter had to be escorted out by the Secret Service. Let that sink in a minute.
While Mau and her daughter are understandably rattled by the experience, she's happy that she stood up for her daughter.
"Chloe is my life, Chloe is my heart," Mau said. "I live to advocate for Chloe, and to be there for Chloe."
This article was originally published on