Trump Temporarily Suspends Entire US Refugee Program, Syrians Indefinitely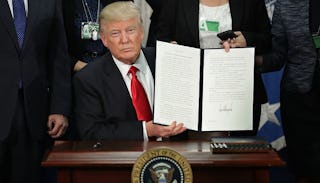 Image via Chip Somodevilla/Getty Images
President Trump has suspended the US refugee program, barring entry from multiple countries
In one of Donald Trump's first official acts, he's using an executive order to suspend the entire United States refugee program, preventing any immigrants from gaining asylum in America, fulfilling one of his many ominous campaign promises.
Yeah, this whole 'lets give him a chance' experiment is pretty much over.
An article on Buzzfeed has the details of Trump's executive order, which shuts down the refugee program for 120 days, but applies indefinitely to Syria. It also bars anyone from Syria, Iraq, Iran, Sudan, Somalia, Libya, and Yemen from even entering the United States for 90 days.
In a feeble attempt to avoid coming off like the bigot that he is, Trump didn't mention Islam or Muslims during the signing ceremony, but he did say that this policy was part of the new "extreme vetting process" to protect the U.S. from "radical Islamist terrorists."
Trump went on to say the act was designed for "the protection of the nation from foreign terrorist entities into the United States."
But I don't get it, he said "radical Islamic terrorists" out loud, shouldn't that do the trick? Aren't we safe now? What's Fox News saying?
In a surprising-but-not-actually-all-that-surprising twist, NPR revealed that none of the countries listed above has ever been the home of any terrorist who's committed a deadly act on our soil. Since 9/11, Saudi Arabia, Egypt, Lebanon, United Arab Emirates, Russia and Pakistan have all been home to extremists responsible for terror attacks. There's not a bit of overlap.
(According to Bloomberg, there's also no overlap with Trump's business interests, as the order doesn't ban any Muslim countries in which the President's Trump Organization has done business or pursued potential deals. Convenient!)
Better safe than sorry, I guess? Should have thought of that before you voted for this lunatic.
The best part of this whole thing was when House Speaker/spineless flunky Paul Ryan made a statement.
"We are a compassionate nation, and I support the refugee resettlement program, but it's time to reevaluate and strengthen the visa vetting process," Ryan said. "President Trump is right to make sure we are doing everything possible to know exactly who is entering our country."
Super compassionate. That's why we're not letting Syrians trying to escape genocide head here for safety. America first! Everyone else last.
Not everyone agrees with Trump, not that that will make much difference with a Republican-stacked Congress that hasn't evinced even a shred of integrity over the course of Trump's terrifying first week.
At least one Senator isn't psyched about this, and Democrat Dick Durbin from Illinois made his feelings known. "History will judge where America's leaders stood today. Faced with the humanitarian crisis of our time, the United States cannot turn its back on children fleeing persecution, genocide, and terror. During the Holocaust we failed to fulfill our duty to humanity. We cannot allow mindless fear to lead us into another regretful chapter in our history."
Pretty sure that "regretful chapter" started on Inauguration Day.
Trump listens Kuran by dekaavram
This article was originally published on