Trump Ordered To Turn Over His Tax Returns From The Last 8 Years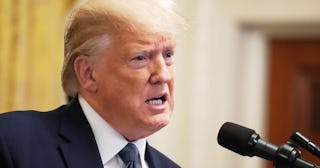 Chip Somodevilla/Getty
A federal judge ordered President Trump to turn over his tax returns to the Manhattan DA's office
Earlier today, a federal judge rejected the argument made by President Trump and his lawyers that a sitting president was immune from criminal investigations, allowing the Manhattan district attorney's office to move forward in seeking the last eight years of Trump's tax returns. The subpoena calls for both his personal and corporate returns as related to hush money payments the DA alleges Trump made to Stormy Daniels before the 2016 election.
Judge Victor Marrero of Manhattan federal court came down with the verdict, and of course, Trump's lawyers were swift to appeal, with the appeals court granting a temporary block. In his ruling, Marrero called president's argument "repugnant to the nation's governmental structure and constitutional values." Repugnant. Sounds about right.
The legal decision comes over a month after the Manhattan DA, Cyrus Vance's office initially subpoenaed Trump's accounting firm for all of his personal and corporate tax returns dating back to 2011.
Naturally, the president is taking it all in stride and not at all whining about his legal woes on social media, LOL, just kidding, he totally is:
And also, just sounding general unhinged all day, including a number of tweets quoting today's episode of Fox and Friends. In other words, nothing new and just incredibly presidential:
The DA's office has been investigating whether Trump broke any New York state laws when the president and his company reimbursed Michael Cohen, Trump's former lawyer, for payments he made to Daniels in the months leading up to the 2016 election. Daniels alleges that she had an affair with the president, and Cohen was paying her to keep her from telling her story. Cohen is now serving out a three-year sentence in federal prison relating to the payments and other charges including tax evasion.
The battle for the American people to see Trump's tax returns dates back to the 2016 election, way back when he promised he would release them, but in the years since, has refused to disclose. His lawyers argued in court that being forced to release his last several years of tax returns would cause the president "irreparable harm." Is that not in itself an admission of some type of guilt? Do the American people not deserve to know exactly what shady nonsense and criminal doings might be uncovered by the release of these documents? In no actual democracy should it be considered acceptable for the law to allow a president to do as he pleases, skirting all responsibility for his actions. And yet.
For now, Trump is safe from having to disclose his tax returns as his lawyers were successful in temporarily blocking the subpoena. Since he took office, Trump's lawyers have sued to block congressional Democrats and New York lawmakers from seeing his tax returns and financial records. Trump's legal team also challenged a California law requiring presidential primary candidates to release their tax returns, and were ultimately successful.
If Vance is able to get the records released, they will not automatically become public, but it would be a huge step in finally beginning to unravel what exactly Trump's hiding from the American people.