New Policy Only Allows Trans Military Members To Serve If They Present As Their Biological Gender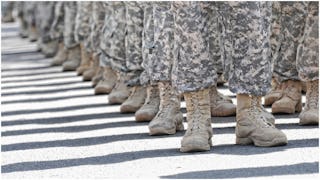 Image via Michael Davis/Getty
The Trump Administration is making it virtually impossible for transgender people to serve in the military
Another day, another awful display of discrimination from the Trump administration. The Pentagon issued a new policy that makes it nearly impossible for transgender people to serve in the military. Service members are now being forced to choose between living their authentic lives or conforming to a gender that's not their own.
The policy, which was signed into effect on Tuesday, mandates that transgender military members are only allowed to serve if they present themselves as their biological gender in both grooming and dress. Some exceptions can be made – though it's not clear what those exceptions are – and those would need to be signed off by secretaries in charge of military services, according to ABC News. If service members do not comply, they will likely be discharged.
Transgender people who are interested in joining the military will no longer have a chance of being accepted. Service members will only be considered in if they haven't undergone hormone therapy or gender reassignment surgeries. Interestingly enough, this goes against Donald Trump's claim that he doesn't want transgender troops to serve because the military cannot "be burdened with the tremendous medical costs and disruption that transgender in the military would entail."
The fact that he won't allow service members who have already transitioned just goes to show that this is full-on discrimination. Also worth noting: the annual military health budget is $50 billion. The annual military transgender care costs is $2.4M, according to AJ+.
Unsurprisingly, backlash has been swift. "The President's revival of his bigoted, disgusting ban on transgender service members is a stunning attack on the patriots who keep us safe and on the most fundamental ideals of our nation," House Speaker Nancy Pelosi said in a statement. "The President's years-long insistence on his cowardly ban makes clear that prejudice, not patriotism, guides his decisions."
Others noted just how cruel this is to military members who were promised they could serve as the gender they identify with.
"This horrific policy is even more cruel than 'don't ask, don't tell' because the Pentagon explicitly told these service members it was finally safe to come out — and now they are being targeted for discrimination," American Military Partner Association president Ashley Broadway-Mack explained. "We emphatically condemn this unconscionable transgender military ban because it undermines military readiness, destroys unit cohesion, betrays our service members, and is based on nothing more than blatant bigotry."
There were many, many more thoughts where that came from.
"Today the Trump administration has chosen prejudice and politics over the truth of open service as revealed by the testimonies of dozens of medical and military leaders and the service and sacrifice of 14,700 transgender service members," said Aaron Belkin, the head of the Palm Center, in a statement.
The new policy goes into effect in thirty days. In the meantime, standing strong behind all the advocacy groups, allies, and service members who are going to fight like hell against this.
This article was originally published on