Trump Got His Way -- Transgender Soldiers Are Officially Banned From The Military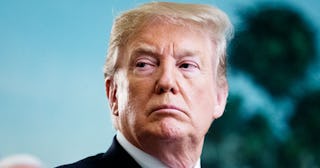 Image via Pool/Getty Images
President Trump's hateful transgender military ban officially goes into effect today
Almost two years ago, President Trump first tweeted out his idea for a new policy that would ban transgender soldiers from serving in the military. Since then, actual policy has been shaped around Trump's hateful ideals and today, the "ban" has gone into effect. The administration used wording to dance around it, but it's most certainly a ban.
The completely depressing turn of events comes three years after former president Barack Obama told transgender soldiers that not only could they serve openly as the gender they identify, but that they'd be provided with gender-affirming healthcare, both medical and psychological. Now, the Pentagon is implementing a policy that pretty much amounts to "don't ask, don't tell" — and it all started with a handful of cruel tweets from Trump declaring transgender soldiers to be a "burden" due to medical costs and a "disruption."
A Pentagon spokesperson told BuzzFeed News, "We are pleased that we are able to create and implement our own accessions policy," and says they're "not aware of any anecdotes up to this point" involving service members being penalized under the new policy.
The Department of Defense insists it's not actually a ban, and that currently serving transgender soldiers may continue to do so if they've already received a diagnosis of gender dysphoria. But after today, anyone with gender dysphoria who is taking hormones or has already transitioned will not be allowed to enlist. Any soldiers currently serving who are diagnosed with gender dysphoria after April 12 will have to serve in the sex assigned to them at birth and will not be able to take hormones or get gender-affirming surgery for however long they serve.
When Trump first tossed out his tweets about the issue in 2017 he did so without first consulting with the Pentagon. The Department of Defense was more or less forced to put the President's hateful ban into practice. Weeks after that, Trump finally commented on the issue:
"I have great respect for the community. I think I have great support — or I've had great support from that community. I got a lot of votes," he told reporters. "But the transgender — the military is working on it now. They're doing the work. It's been a very difficult situation. And I think I'm doing a lot of people a favor by coming out and just saying it. As you know, it's been a very complicated issue for the military. It's been a very confusing issue for the military. And I think I'm doing the military a great favor."
So that was a bunch of worthless word salad that just amounts to an ignorant and hateful policy that helps no one — but hurts plenty of people.
Lawmakers and advocates for the transgender community were quick to condemn the move.
There are currently four lawsuits pending against the policy. Shannon Minter, the legal director for the National Center for Lesbian Rights, calls the legal battle "far from over."
"All four cases are proceeding," he said recently. "Just because an injunction is lifted, doesn't mean case is over."
Trump long defended the move as financial saying the military can't "be burdened with the tremendous medical costs and disruption that transgender in the military would entail." However, the annual military health budget is $50 billion. The annual military transgender care costs is $2.4M, according to AJ+.
We know. It's not at all shocking to hear that the policy is actually rooted in a deep and shameful hate for an entire community of individuals. This is America in the time of Trump.