Trump Actually Tweeted Condolences About The Wrong Mass Shooting Last Night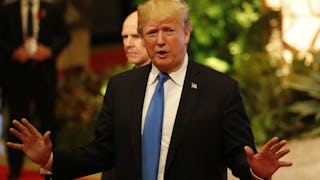 Image via Getty/ERIK DE CASTRO/AFP
Trump offers condolences for California shooting in Texas
It's been almost a year since Donald Trump was elected President and what's almost as difficult as that sentence is to write is trying to keep up with all the times he's put his big foot in his mouth. But yesterday's tweet may just take the cake — for this week, anyway.
Then again, it's only Wednesday.
Trump offered his condolences late yesterday for yet another mass shooting, which may have been comforting to the victim's families if he didn't offer sympathy for the wrong shooting. The actual shooting took place at Rancho Tehama Elementary School in northern California which left four people dead and several more injured, including children. The erroneous tweet, which has already been deleted, refers to the mass shooting that happened in a Texas church 10 days ago.
Thankfully, there are always screenshots:
It appears the President did a cut and paste of this tweet from the shooting at First Baptist Church in Sutherland Springs where 26 innocent people lost their lives while sitting in church.
To his credit, there have already been 390 mass shootings in the U.S. just this year, so it's hard to keep track of exactly where his thoughts and prayers are going most days. But he is the President, so it's important that if he's going to offer words of support, he support the victims of the right tragedy. Or at least allow someone (anyone – a donkey, even) to double check his Twitter account before his fingers are allowed to press the "tweet" button.
His tweet was sent at 11:34 p.m. last night and remained live as of early this morning, when it was finally deleted. That may be because Twitterland's reactions were swift and understandably harsh because people just cannot with him for one more second:
He has had time since the flub to send additional tweets this morning congratulating himself for our now impeccable reputation in Asia, calling CNN a "loser" for the hundredth time, and saving three UCLA players from jail time in China (i.e. doing his job) while managing to capitalize both "Basketball" and "Players" in the tweet itself. Sweet baby Jesus.
Remember the time that Twitter employee deleted his account for eleven glorious minutes on their last day of employment? Any chance human resources could rehire that person for a hot minute so we can all get some relief?
This article was originally published on