Our 'Very Healthy' President Has Been Ranting Like An Unhinged Maniac All Morning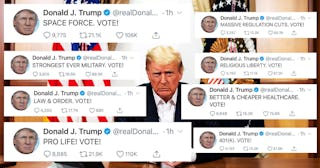 Donald Trump/Twitter and Tia Dufour/The White House/Getty
Trump has been "all caps" tweeting up a storm from his hospital bed this morning and none of them make sense
Early Monday morning, the tweets were flying from President Donald Trump's Twitter account in a flurry, despite the fact that he's hospitalized in Walter Reed Medical Center with COVID-19. Trump hasn't been very active on his favorite social media platform during the last few days while undergoing extensive treatment for the virus. His latest Twitter storm began around 7 a.m. EST this morning, and they did not stop. They also did not make sense, for the most part.
Some of the strangest exclamations of this morning included shouting reasons people should vote, like "RELIGIOUS LIBERTY" or "STRONGEST EVER MILITARY" or "MASSIVE REGULATION CUTS." He also showed unease about swing states, like Virginia.
But most of the tweets were just desperate shouts of an unwell man, with no rhyme or reason behind them — but his finger never left the "all caps" button.
The tweet storm comes after he made the decision to engage in a drive-by photo op yesterday evening, waving to a small group of his supporters outside the hospital. The entire ordeal endangered the health and well-being of his Secret Service agents and every single person trapped inside the unventilated car with a COVID-positive hospital patient.
Did the Secret Service "sign up" to protect the president's life? Sure, that's their job. To protect him from harm and danger from outsiders. But when did it become their job to risk their lives when it's not outsiders that are the life-threatening problem, but the President himself? All for a two-minute ego boost. If Secret Service members take an oath to stand in front of a bullet for their Commander-in-Chief, what's the protocol when that bullet is the President?
It's notable that he's shouting about protecting pre-existing conditions and "better and cheaper" healthcare when just last week, Senate Republicans — led by Mitch McConnell — voted to strip healthcare from more than 100 million Americans by trying to strike down the Affordable Care Act. In the middle of a deadly pandemic that has killed nearly 210,000 Americans in just seven months.
Trump has been at Walter Reed since Friday. His medical team said Sunday that his condition was improving after multiple "episodes" over the weekend, according to Dr. Sean Conley, Trump's White House physician. His medical team says he could possibly be released today.
Since Trump was first hospitalized, his doctors and members of the White House have given conflicting and confusing statements regarding his health, the timeline of his diagnosis, how many people he knowingly exposed to the virus last week, and his prognosis.
The American people have been left wondering how to differentiate between the image the President is dead-set on trying to uphold and the reality of the fact that he is in a very grave health situation, caused by a virus he downplayed for seven months, after taking zero precautionary measures during public gatherings, and is now undergoing serious medical treatment for the same disease that has killed hundreds of thousands of Americans under his watch.
It seems the lies, much like the tweeting and Trump's health, are at a fever-pitch.