Trump Tries To Convince Us This Fake Photo Of Military Dog Is Real
by Cassandra Stone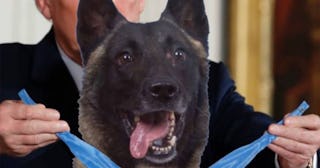 Donald Trump/Twitter
Trump shared an altered photo of the dog involved in the operation to kill Abu Bakr al-Baghdadi
Yesterday, President Trump tweeted a photo of himself placing a medal around the neck of the military dog injured in the operation that led to the death of Islamic State leader Abu Bakr al-Baghdadi. Which would be fine, except for the fact that the photo is fake. Because of course it is.
The photo, which is stamped with a watermark to make it seem like an official photograph courtesy of right-wing news site The Daily Wire, is altered.
The New York Times is reporting that it's an altered version of a 2017 Associated Press photograph. In the original, Trump is awarding a Medal of Honor to a retired Army medic.
Who puts out a fake photo trying to convince the public you've honored a military dog? Especially when you can just… honor the military dog for real? Which he's planning to do in the near future anyway? So. Weird. But it plays right into the hands of his base, so there's that.
Trump is a big fan of the dog in question, who's name is Conan. When he announced the results of the raid against al-Baghdadi, Trump highlighted the dog in comments that went viral, "Our 'K-9,' as they call it, I call it a dog," he said earlier this week. "A beautiful dog — a talented dog — was injured and brought back."
The raid culminated with al-Baghdadi detonating a suicide bomb, killing himself and several children and injuring the dog. The internet had strong reactions to the photo he tweeted of himself awarding the dog a medal.
As for the altered photo the president shared, he acknowledged it's inauthenticity once he realized the internet was having a field day with this ridiculousness. He mentioned it in a tweet he posted early this morning, calling it "very cute" and suggesting that Conan is actually coming to the White House next week.
This isn't the first time Trump has led everyone to believe something was true when it blatantly, obviously, majorly was not. r
In early September, Trump met with reporters in the Oval Office where he displayed a forecast map showing states that were predicted to be affected by Hurricane Dorian at the time. Alabama clearly isn't one of them, except that the map had been altered with a shakily drawn black line to include a small, southern part of the state. By using a Sharpie.
Basically, when it comes to actual "fake news," this administration knows no bounds — the more ridiculous the fakery, the better, apparently.